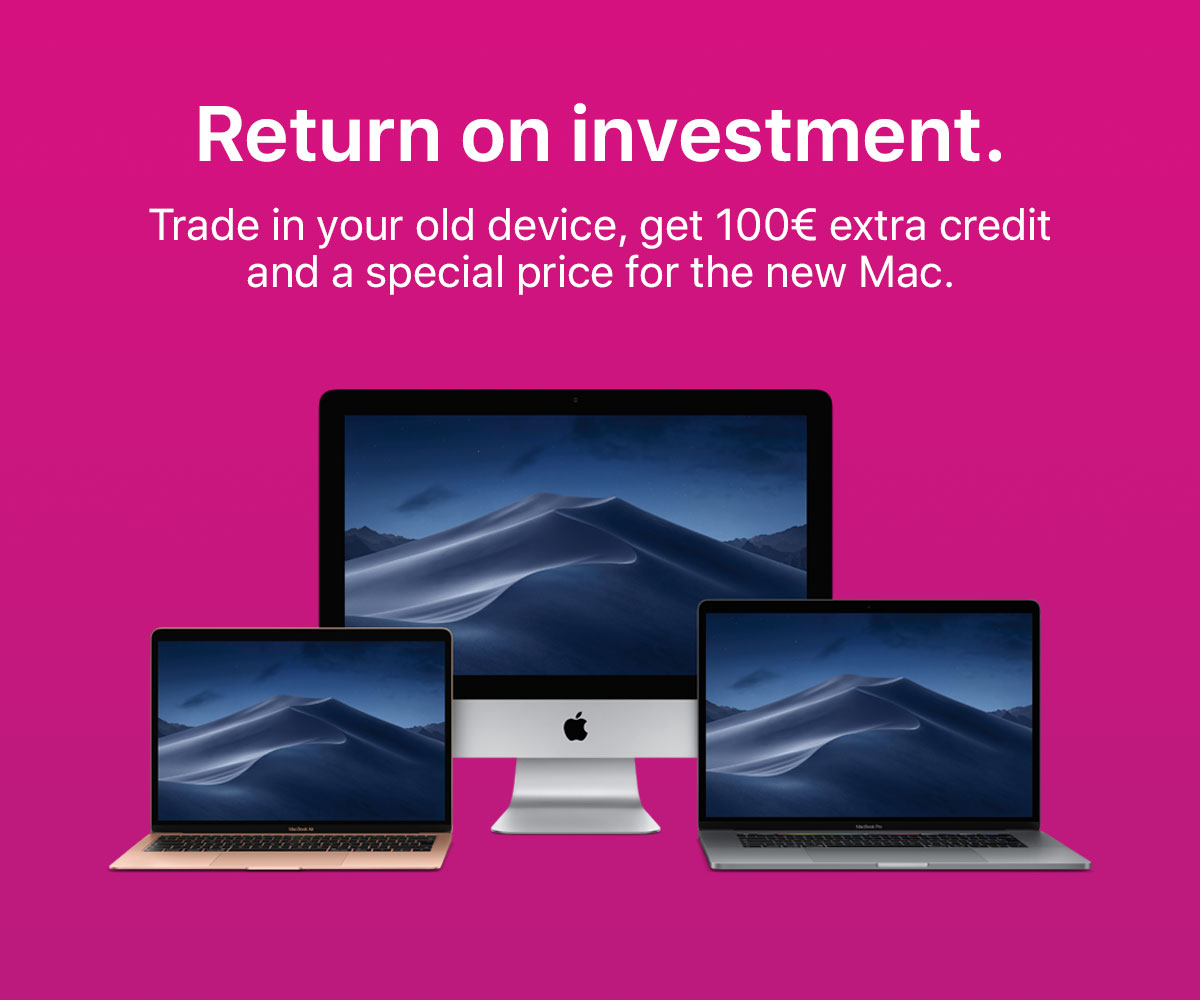 Now it's a great opportunity to update your working machine. Check your shelves and storage boxes and if you have some old products you can turn them into discount and use it for the purchase of the new device. We prepared a couple of options below to help you save even more on a Mac.
When you trade in your working device:
Bring your working Apple device (iPhone / iPad / Mac / iPod) to the store and get a credit for it1
We give you 100€ extra discount to the value of your working device
You can use the total value to purchase a Mac computer with even lower prices than listed below
When you bring your non-working device:
Bring your old mobile phone, tablet or laptop from any brand to the store, it can be in non-working condition2
We will give you a fixed 100€ credit for it
You can use the 100€ credit from us to purchase a Mac computer with even lower prices than listed below
If you don't have anything to trade-in:
You can purchase the Mac with a special price3 as listed below.
Used
Usually used products which were returned by our own customers, were displayed at Demo stands or have some minor problems like dead pixel. Tested by either us or supplier.
Refursbished
Products which were repaired or restored, fully cleaned from the inside out, tested and carefully boxed by manufacturer.
Open Box
Brand new products which includes all parts and accessories. Box might have been opened or slightly damaged while product itself has been unused. Comes with a full warranty which displayed on each product page when marked "Open Box"
The trade-in program is valid only at iTronic stores. 1. Final trade-in value for Apple devices is calculated at the store after product examination. 2. We can take in a device from the following categories: Mobile phone, Tablet, Laptop. The device should not be older than 7 years. A fixed 100€ will be credited for the device you bring in. 3. Special prices for Mac computers are valid from 28.01.2019 to 28.02.2019 and cannot be combined with any other discounts outside this campaign.