SOPHOS MOBILE CONTROL ADVANCED,100-199USERS,36 MONTHS,SUBSCRIPTION,COM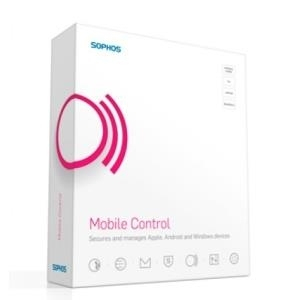 Multitronic - JNT Pietarsaari
0
Multitronic / iTronic Lappeenranta
0
Multitronic / iTronic Jyväskylä
0
Estimated delivery time
Not confirmed
Fetch from the shop
0,00 €
Parcel to the Doorstep
11,10 €
Home Delivered Parcel
11,70 €
Matkahuolto Near Parcel
6,20 €
Matkahuolto Bus Parcel
4,10 €
More info about this product
License
License quantity
100 - 199
License term in years
3 year(s)
Operating system/software
Mobile operating systems supported
Android, Android 4.0, Android 4.1, Android 4.2, Android 4.3, Android 4.4, Android 5.0, Android 5.1, Windows 10 Mobile, Windows Mobile, Windows Phone 8, Windows Phone 8.1, iOS, iOS 7.0, iOS 7.1, iOS 7.2, iOS 8.0, iOS 8.1, iOS 8.2, iOS 8.3, iOS 8.4, iOS 9.0, iOS 9.1, iOS 9.2, iOS 9.3
EAN
Source: Icecat.biz
Read more...
Sophos Mobile Control

Mobile Productivity with Sophos Security.
Sophos Mobile Control secures mobile devices and protects corporate data enabling employee productivity. Know that your data and network are secure, thanks to integration with Sophos' endpoint, encryption, and network threat management capabilities.

Highlights

- Containerize corporate email/calendar/contacts
- Secure collaboration with Sophos Secure Workspace
- Manage Windows 10 laptops, desktops and tablets
- Protect Android devices
- Empower users with Self Service Portal
- Monitor and enforce device compliance
- Remotely locate, lock, and wipe devices
- Distribute apps/websites/documents to user
- Deploy with on-premise and SaaS options
Read more...