Home Electronics
Cameras
NVR-sarja, 10,1" näyttö ja kaksi langatonta valvontakameraa, valkoinen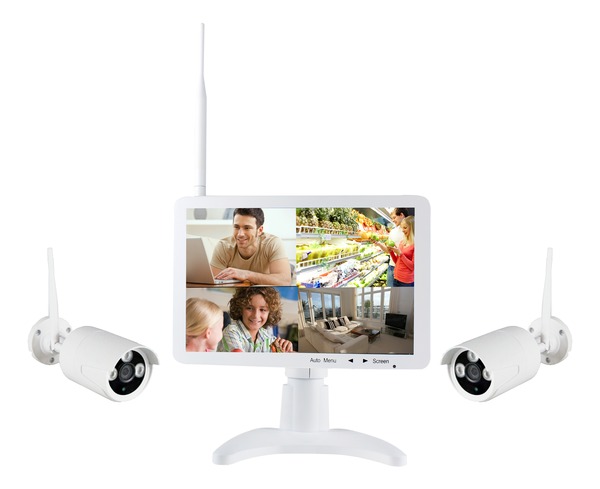 228

,90 €
184

,60 €
Show price:
incl. VAT
excl. VAT
Multitronic - JNT Pietarsaari
0
Multitronic / iTronic Lappeenranta
0
Multitronic / iTronic Jyväskylä
0
Estimated delivery time
1-4 days
Fetch from the shop
0,00 €
Parcel to the Doorstep
12,10 €
Home Delivered Parcel
14,20 €
Matkahuolto Near Parcel
6,20 €
Matkahuolto Bus Parcel
4,10 €
NVR-asennussarja, 10,1" näyttö ja kaksi langatonta valvontakameraa, 720p, IP66, 120 m, yksi 3,5" SATA-paikka, valkoinen
NVR-tallentimen sisältävä asennussarja, jossa on 10,1" näyttö ja kaksi ulkokäyttöön tarkoitettua verkkokameraa. NVR-laite kytketään olemassa olevaan verkkoon, ja tarvittaessa siihen voi asentaa 2,5"/3,5" kiintolevyn nauhoitetun materiaalin tallentamista varten. Kamerat kommunikoivat NVR-tallentimen kanssa langattomasti jopa 120 metrin päähän ilman, että laitteisto vaatisi monimutkaista asennusta. Kameroilla on IP66-suojaluokitus, joten niitä voi käyttää ulkotiloissa. Niiden maksimiresoluutio on 1280 x 720.
Android- ja iOS-käyttöjärjestelmille on olemassa sovellus, jolla voi hyödyntää valvontakameroita mobiililaitteella.
• 4 kanavaa
• 10,1" näyttö, 1280 x 800
• Kameran maksimiresoluutio: 1280 x 720
• 120 m maksimietäisyys NVR:n ja kameran välillä
• HDMI-ulostulo ylimääräisen näytön liittämistä varten
Mukana tulevien kameroiden ja NVR-tallentimen välille on luotu valmistusvaiheessa pariliitos.
Pakkauksen sisältö: NVR, kaksi valvontakameraa, 1 verkkokaapeli, 1 hiiri, verkkovirtasovitin, käyttöopas
Multitronic - JNT Pietarsaari
0
Multitronic / iTronic Lappeenranta
0
Multitronic / iTronic Jyväskylä
0
Estimated delivery time
1-4 days