Gardena SILENO minimo 500 m² - robotic lawnmower
Gardena SILENO minimo 500 m² - robotic lawnmower
ID: 15202-35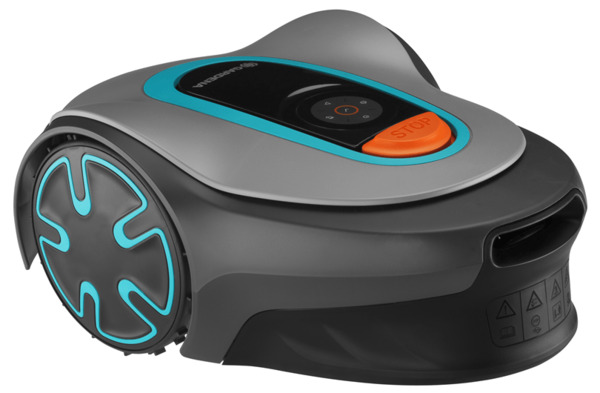 699

,00 €
563

,71 €
Show VAT 0%
Show VAT 24%
Currently not available
Estimated delivery: Unknown
Change store
Satisfaction guarantee 30 days or money back!
When you choose SILENO, you are making an excellent choice! That's why we now promise you a full 30-day satisfaction guarantee. When you register the mower, we will also extend the warranty to 3 years (2 + 1). The satisfaction guarantee applies to GARDENA SILENO robotic lawnmowers purchased between 1 April and 30 June 2022.
Specifications
Description
Store availability
Delivery
Price development
Tehokas robottiruohonleikkurille pienille pihoille - 500 m²
GARDENA-robottiruohonleikkuri SILENO minimo 500 m² on hiljainen, monipuolinen ja älykäs pieni puutarhanhoitaja. SILENO minimo on ihanteellinen valinta pienille nurmikoille, sillä siinä yhdistyvät hyvä suorituskyky ja ketterä leikkaaminen. Kun otat esiin älypuhelimesi ja GARDENA Bluetooth® -sovelluksen, voit syöttää nurmikon koon, halutut leikkuupäivät ja haluamasi aloitusajan. GARDENA Bluetooth® -sovellus opastaa sinut ensiasennuksen läpi helpolla tavalla, askel askeleelta. Robottiruohonleikkuri suunnittelee aikataulun ja on valmis ryhtymään työhön. Voit hallita SILENO minimo -robottileikkuria kätevästi Bluetooth®-yhteyden kautta jopa 10 metrin etäisyydeltä. GARDENA Bluetooth® -sovellus ja sen ohjattu aikataulutus auttavat pitämään puutarhan aina hyvässä kunnossa.

Erityisen hiljaisen moottorin ansiosta leikkurin melutaso on luokkansa alhaisin, vain 57 dB (A). Sinä ja naapurisi voitte rentoutua rauhassa puutarhassa, vaikka robottileikkuri olisi tekemässä työtään. Edistyksellinen CorridorCut-ominaisuus ohjaa robottiruohonleikkuria, kun se leikkaa ahtaissa kulmissa ja kapeissa käytävissä, joissa rajakaapelien välinen etäisyys on minimissään 60 cm. CorridorCutin ansiosta leikkuri navigoi ketterästi pois jopa hankalista umpikujista. SensorControl-toiminnon ansiosta SILENO minimo arvioi itse, kuinka usein nurmikko tarvitsee leikata, ja säätää leikkuutiheyttä tarkasti ruohon kasvun mukaan. Tämä taitava pieni apulainen leikkaa ruohon mahdollisimman tehokkaasti. SILENO minimo leikkaa nurmikkoa ahkerasti ja itsenäisesti säästä riippumatta, sateella ja paisteella. Nurmikkoa suojellakseen fiksu robottiruohonleikkuri huomaa, jos maa on jäätynyt tai liian huurteinen, ja keskeyttää leikkaamisen siihen asti, kunnes se on sulanut.

Rajakaapeli kertoo SILENO minimolle puutarhasi leikattavan nurmialueen. Hakukaapeli puolestaan ohjaa robottileikkurin puutarhan etäisimmältäkin alueelta luotettavasti ja täysin automaattisesti tehokkainta reittiä takaisin latausasemaan. Tämä pieni automaattinen ruohonleikkuri mahtuu kulkemaan ongelmitta kapeidenkin alueiden läpi ja se leikkaa jopa 25 prosentin rinteissä tai kaltevuuksissa. Kun työ on valmis, ahkera robottipuutarhuri palaa kotiin latausasemaansa ansaitulle latautumistauolle. Se leikkaa täysin itsenäisesti antaen sinulle enemmän aikaa keskittyä lempiasioiden tekemiseen puutarhassa. SILENO minimo voidaan puhdistaa helposti puutarhaletkulla.

Nauti ajastasi puutarhassa - istu alas, rentoudu ja anna pienen SILENO minimo -robottileikkurin tehdä raskas työ puolestasi. Nurmikkosi näyttää aina hyvin hoidetulta. Älykäs robottiruohonleikkuri. SILENO.

Tiedoksi: Jotta voit käyttää GARDENA Bluetooth® -sovellusta ja siihen liittyviä GARDENA Bluetooth® -laitteiden toimintoja, sinun tulee luoda verkossa GARDENAn tai Husqvarna Groupin käyttäjätili. GARDENA-käyttäjätilin luomiseen vaaditaan käyttäjätunnus ja sähköpostiosoite. Se on helppoa: sinun tarvitsee vain seurata sovelluksessa näkyviä ohjeita asennuksen aikana. Kun luot GARDENA-käyttäjätiliäsi, voit käyttää valitsemaasi käyttäjänimeä. Sinun ei tarvitse käyttää etu- ja sukunimeäsi, jos et halua. Annettu sähköpostitili toimii vahvistuksena siitä, että olet valtuutettu henkilö käyttämään kyseistä sähköpostitiliä. Voit halutessasi myös käyttää sähköpostiosoitetta, joka ei sisällä etu- ja/tai sukunimeäsi. Löydät lisätietoa asiasta tietosuojakäytännöstämme: https://smart.gardena.com/#/signup/legal-document?document=PRIVACY_POLICY Jos sinulla on kysyttävää online-rekisteröinnistä, voit myös ottaa yhteyttä meihin palautelomakkeen kautta. Asiakaspalvelumme auttaa sinua mielellään.
Fetch from the shop
Estimated delivery time: Unknown
Posti Parcel Point
Estimated delivery time: Unknown
Postal Parcel
Estimated delivery time: Unknown
MH Locker and Near Parcel
Estimated delivery time: Unknown
Matkahuolto Bus Parcel
Estimated delivery time: Unknown
Parcel to the Doorstep
Estimated delivery time: Unknown
Home Delivered Parcel
Estimated delivery time: Unknown