Components
Refurbished
Small sign of usages. Never on screen. Often manufacturer repaired products.
(Refurbished) Xeon 2333MHz QC 2x1024MB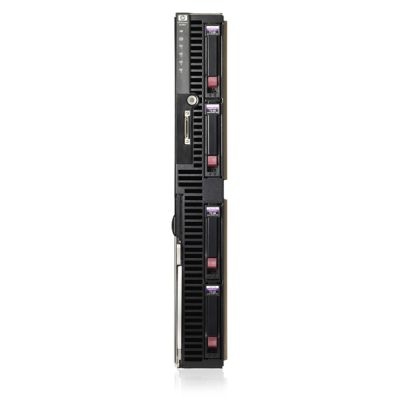 Multitronic - JNT Pietarsaari
0
Multitronic / iTronic Lappeenranta
0
Multitronic / iTronic Jyväskylä
0
Estimated delivery time
Not confirmed
Fetch from the shop
0,00 €
Parcel to the Doorstep
11,10 €
Home Delivered Parcel
11,70 €
Matkahuolto Near Parcel
6,20 €
Matkahuolto Bus Parcel
4,10 €
More info about this product
Processor
Motherboard chipset
5000P
Processor upgrade
Upgradeable to dual processors
Number of processors installed
1
Processor front side bus
1333 MHz
Cache internal
12 MB
Processor family
Intel Xeon
Processor cores
4
Memory
Internal memory type
-
Memory slots
12 DIMM slots
Maximum internal memory
48 GB
Ports & interfaces
Expansion slots
Three Mezzanine slots (Two x8 and one x4)
Weight & dimensions
Weight
10.6 kg
Operational conditions
Operating altitude
3048m
Operating relative humidity (H-H)
10 - 90%
Storage temperature (T-T)
-20 - 60 °C
Operating temperature (T-T)
10 - 43 °C
Storage relative humidity (H-H)
10 - 95%
Relative humidity
10 - 90%
Non-operating altitude
9144m
Networking
Networking features
Four (4) embedded NIC ports, plus (1) additional management NIC port: One (1) embedded NC326i Dual Port Gigabit Server Adapter; Two (2) embedded NC373i Multifunction Gigabit Server Adapters with TCP/IP Offload Engine, including support for Accelerated iSCSI and RDMA through optional ProLiant Essentials Licensing Kits; One (1) additional embedded 10/100 NIC dedicated to iLO 2 management
Fibre Channel
Dual-port Fibre Channel Adapter option
Other features
Dimensions (WxDxH)
51.6 x 508 x 366.3 mm
Manageability features
Integrated Lights-Out 2 (iLO 2) Standard Blade Edition (integrated on motherboard): Virtual KVM based remote console; Virtual media (single server, browser based access only); Remote Serial Console; Virtual Power Button Control; Virtual Unit ID control; Integrated Remote Console; Dedicated network connectivity;Embedded system health; Browser, command line and scripted access; Automatic IP Configuration via DHCP/DNS/WINS; Industry Standard 128-bit Secure Sockets Layer (SSL) and Secure Shell security (SSH); OS independent hardware health status; IML and iLO Event Logging; Support for 12 user accounts with customizable access privilege; Single sign-on from HP BladeSystem Onboard Administrator
I/O ports
Four embedded (4) Gigabit Ethernet NIC ports plus (1) additional 10/100 NIC dedicated to iLO 2 Management
Memory upgrade
48 GB
Internal mass storage
Hot Plug Serial Attach SCSI (SAS): 584 GB SAS (4 x 146 GB Serial SCSI); Hot Plug Serial ATA (SATA): 480 GB SATA (4 x 120 GB Serial ATA)
Graphics adapter
RN50
Non-operating relative humidity (non-condensing)
10 - 95%
Hard disk controller
HP Smart Array P400i Controller with 256MB (optional BBWC)
Video card resolution
1280 x 1024 x 16 M color
Disk subsystem controller
Smart Array P400i Controller 256MB memory module supports RAID 0/1/5. Available upgrades: Battery-backed write cache (BBWC) or 512MB memory module with battery-backed write cache (BBWC) (both upgrades support RAID 0/1/5/6)
Hard disk drive type
No hard drive in standard configuration
Drive bays
4 Serial Attached Small Form Factor SAS or SATA bays
Video modes resolution
1280 pixels
Multi processor capable description
Upgradeable to dual processors
Security management description
One (1) internal USB 2.0 connector for security key devices and USB drive keys, Power-on password, Administrator's password, Integrated Lights-Out 2 has 12 customizable user accounts and SSL encryption, Integrated Lights-Out 2 can be disabled via a Global Setting
Video RAM
32 MB DDR1 memory
Service & support
3 year Parts, 3 year Labor, 3-year on-site support
Technical features
Processor cache: 2x6MB shared L2 cache (5400 Series); 2x4MB shared L2 cache (5300 Series); 4MB shared L2 cache (5100 Series)
Processor quantity per 42U rack
64
Design
Chassis type
Blade
Optical drive type
N
Graphics
Maximum graphics adapter memory
32 MB
Performance
Compatible operating systems
Microsoft Windows 2000 Server; Microsoft Windows 2000 Advanced Server; Microsoft Windows Server 2003, Standard Edition (32 and 64-bit); Microsoft Windows Server 2003, Enterprise Edition (32 and 64-bit); Microsoft Windows Server 2003, Compute Cluster Server; Red Hat Enterprise Linux; SUSE Linux Enterprise Server; VMware ESX Server
EAN
5704327927495
Source: Icecat.biz
Read more...
The HP ProLiant BL480c server blade delivers an unmatched combination of two processor (2P), multi-core performance, and expansion. Experience the difference with the HP ProLiant BL480c server blade, the industry's only 2P server blade that offers 12 DIMMs, four hot-plug drives and three I/O expansion slots. The HP ProLiant BL480c server blade features two quad-core or dual-core Intel Xeon processors, up to 48GB of ECC 667 MHz DDR2 memory, four network adapters, and your choice of four hot-plug SAS or SATA drives. The HP ProLiant BL480c server blade has more than you've come to expect from a 2P server blade, and it can handle the most challenging applications.

Features

Read more...
No price development information for this product.