BENQ LK970 5000ANSI XPR 4K
BENQ LK970 5000ANSI XPR 4K
ID: 9H.JH477.15E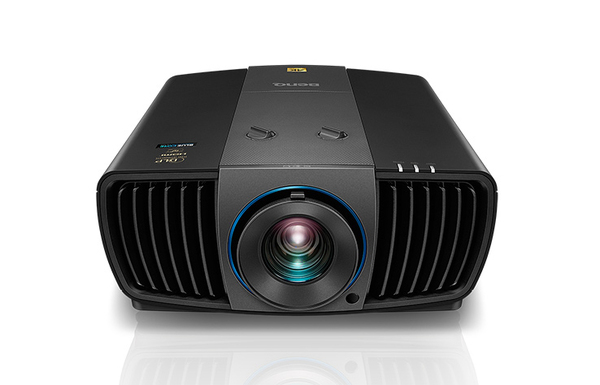 7783

,90 €
6277

,34 €
Visa Moms 0%
Visa Moms 24%
Webblager:
Beräknad leverans: 28.05 - 30.05
Byt butik
Produktspecifikation
Beskrivning
På lager i butiker
Leverans
Prisutveckling
Anslutningar
Seriellt gränssnitt
RS-232
Antal USB 2.0 anslutningar
1
DVI-port
Kvalitet på VGA (D-Sub) porten
3
Antal S-Video-ingångar
2
Strömingång
Antal HDMI-portar
2
Antal USB 3.0 (3.1 Gen 1) typ A-portar
1
HDBaseT-port
Linssystem
Bländarintervall (F-F)
2,13 - 2,38
Fokus
Manuell
Avståndsförskjutning
1.38 - 2.02:1
Zoomförhållande
1,47:1
Horisontell linsförskjutning sortiment
-25 - 25%
Vertikal lens shift sortiment
-60 - 60%
Vikt & dimension
Vikt
19,2 kg
Höjd
224,9 mm
Bredd
470,7 mm
Djup
564,7 mm
Strömtillförsel
Strömförbrukning (vanlig)
540 W
Strömkälla
AC
Strömförbrukning i PowerSave läge
430 W
Strömförbrukning i vänteläge
0,5 W
Strömförbrukning (max)
595 W
Strömförbrukning (nätverksvänteläge)
3 W
Nätverk
Nätverksansluten (Ethernet)
Antal LAN (RJ-45) anslutningar
1
Projektor
Kontrastförhållande (medel)
100000:1
Horisontellt sökområde
15 - 135 kHz
Vertikalt sökområde
23 - 120 hz
Projektionsteknik
DLP
Projektor ljusstyrka
5000 ANSI-lumen
Native bildförhållande
16:9
Projektorns naturliga upplösning
4K (4096 x 2400)
Antal färger
Grafikstyrenhet
Analogt signalformatsystem
NTSC,PAL,SECAM
Full HD
Grafikupplösningar som stöds
640 x 480 (VGA),3840 x 2160
Videolägen som stöds
480i,480p,576i,576p,720p,1080i,1080p,2160p
Förpackningens innehåll
Handhållen fjärrkontroll
Typ av fjärrkontroll
IR
Bruksanvisning
Snabbstartsguide
Garantisedel
Övriga egenskaper
RS-232 port
1
Design
Produktens färg
Svart
Går att montera i taket
Positionering på marknaden
Presentation
Produkttyp
Bordsprojektor
Egenskaper
Ljudnivå Lc IEC
37 dB
Skärmgränssnitt (OSD)
OSD-språk
Arabiska, Bulgariska, Förenklad kinesiska, Traditionell kinesiska, Kroatiska, Tjeckiska, Danska, Tyska, Nederländska, Engelska, Spanska, FIN, Franska, Grekiska, Ungerska, Indonesiska, Italienska, Japanska, Koreanska, Norska, Polska, Portugisiska, Rumänska, Svenska, Thailändska, Turkiska
Lamptyp
Laserdiod
Antal lampor
1 lamp(or)
EAN
4718755070396
Garanti
5 år
Source: Icecat.biz
Long Lasting, Supreme Image Quality from 4K BlueCore Laser Technology
Precisely visualizing 8.3 million distinct pixels, BenQ LK970 4K Laser Projector brings together true 4K UHD detail and the power of maintenance-free BlueCore laser light source. Ideal for entertainment simulators and gallery exhibitions, LK970 generates supreme picture quality to reproduce true-to-life images for totally immersive experiences for audiences. Offering up to 20,000 hours of perfect performance, LK970's flexible installation features such as H/V lens shift, big zoom, 360° projection and portrait capability make it a versatile projector perfect for diverse venues.

Revolutionary BlueCore Laser Technology
The world's No.1 DLP brand BenQ augments its full line of revolutionary BlueCore laser projectors with LK970, unleashing true 4K UHD resolution for beautiful and innovative visual communication in public venues.

Long Lasting, Supreme Image Quality
4K UHD Image Quality for Perfect Pictures with Subtle Details
Harnessing the advanced DLP 4K UHD DMD with 2716 x 1528 (4.15 million) micromirrors, LK970 achieves Consumer Technology Association's (CTA) 4K UHD specification via XPR fast-switching technology. Utilizing a dual-position precision optical actuator with state-of-the-art image processing, LK970 doubles the resolution to 8.3 million distinct pixels for each frame, four times the resolution of Full HD 1080p. The awe-inspiring 4K UHD image quality reduces blur between pixels to deliver supreme clarity and crisply defined details.

Finely-Craft Optical Lens for High-Resolution Image Clarity
LK970's high-performance lens system employs sophisticated optical design to deliver true-to-life images with a high differential rate reflected through the 5.4 micrometer image resolution produced by the DMD. This innovative optical lens eliminates image distortion, achieving the best possible image clarity suitable for entertainment simulators and gallery exhibitions.

High-Precision 16-Element 8-Group Lens Array Guarantees Stable Image Quality
LK970's 4K-optimized lens system consists of a super-high resolution 16-element lens array structured into 8 groups. The lenses are made from the highest-grade all-glass substrates, with metal barrel and cell framework. The lens system comes with greater light penetration that guarantees long-lasting 4K intensity, breathtaking clarity, sharpness, and color performance across the entire screen.

Flawless Optics for the Best Color Performance and Picture Quality
LK970's 16 low dispersion lenses minimize chromatic aberration via a customized optical parameter and ultra-low reflective coating that prevent shape distortion while safeguarding perfect projection quality. The result is superbly delicate image quality that guarantees the best viewing experience.

Superb Image Detail and Color Integrity from DLP Technology
To avoid inherent alignment issues of multiple panels, BenQ LK970 4K Laser Projector preserves color and image integrity with single DMD DLP technology. Generating razor-sharp images and pure colors, LK970 eliminates problems such as blurriness, shadowing, and interference patterns for immaculate clarity.

Dual Color Wheels for Optimal Color Performance
LK970's powerful BlueCore laser projection utilizes a dual color wheel system to produce unparalleled color performance by increasing color ratios and purity of RGBY color, dramatically enhancing color saturation to ensure superior viewing experiences.

DLP Technology for Lasting Vibrant Color
BenQ laser projectors are based on the absolute reliability of the 1-chip DLP design. The highly durable DLP chip can last over 100,000 hours without degradation, ensuring true-to-life colors and pristinely legible text over countless uses.

Optimize Image Quality with 4K Image Amplifying Technology
To ensure the best image quality, BenQ's LK970 adopts the cutting-edge 4K Image Amplifying Technology to further enhance the quality of projected images. LK970 automatically upgrades the resolution of all projected images to 4K, guaranteeing superb image details. Additionally, LK970 also comes with Pixel Enhancer 4K, a motion-adaptive edge enhancement feature that detects changes in the color between an object and its background to produce sharp edges and precise surface textures.

Laser-Enabled Ultra-High Contrast
LK970 4K Laser Projector creates strikingly clear images with stratospherically high native contrast ratio of 100,000:1 for true deep blacks, vividly rich colors, and fine subtle details. LK970 also features spontaneous response, requiring no wait to turn on or resume from blanking in true black for flexible performance capability.

Enduring Reliability
20,000 Hour Long-Lasting Performance
BenQ BlueCore laser projectors are guaranteed for 20,000 hours of superior image quality and performance. The laser light source resists color decay over time, making BenQ laser projectors ideal for multiple blending projections without concern for adjacent projectors generating different levels of brightness after a period of operation.

24/7 Operation
BenQ laser projectors support continuous 24/7 operation and are suitable for public display applications in museums and exhibitions. Users can choose from three different light source modes to optimize energy use and extend the projector's life up to 60,000 hours in Eco Mode.

Superior Dustproofing for Severe Conditions
BenQ LK970 4K Laser Projector is designed with sealed laser modules and enclosed light engines to protect the DMD chip, color wheel sensor, laser bank, and other optical components. This lock-and-key design hermetically seals the engine from dust* to prolong projector lifespan.

Groundbreaking Thermal Conduction through Innovative Cooling Systems
LK970 employs two advanced cooling systems to ensure optimal thermal conduction during operation. The circulatory liquid cooling system protects the laser light bank and DLP engine even after constant operation in ambient temperatures up to 40°C (104°F), while the heat pipe cooling system cools the DMD chip to effectively produce a comfortable sound with improved reliability.
Additionally, LK970 also comes with several embedded thermal sensors to intuitively control the projector's temperature and ensure optimal operation. The sensors can detect the temperature of the laser-bank and surrounding environment in real-time and automatically adjust the speed of the fans.

Excellent Installation Flexibility
360° and Portrait Projection Accommodate Diverse Spaces
BlueCore laser technology guarantees reliable projection from any angle. Dynamic installation options such as 360° rotation and portrait orientation allow projection onto ceiling, walls, floors, or angled signage.

High Altitude Mode for Elevated Environments
LK970's intelligent High Altitude Mode enables efficient cooling to properly maintain operating temperatures in high altitude environments with reduced air pressure in thinner atmospheres.

Big Zoom, Focus, Lens Shift for Flexible Installation
LK970's wide zoom range, focus, and horizontal/vertical lens shift systems can perfectly align images in any challenging venue. Lens shift can move projected images up and down by 60% of screen height or left and right by 25% of screen width without sacrificing image quality. The 1.5X big zoom feature offers a wide range of throw distances to significantly increase installation flexibility for diverse mounting options in various public display scenarios.

Synchronized True Zoom and Focus System for Ultimate Precision
LK970's True Zoom system adjusts automatically to follow focus adjustments, optimizing the zoom ratio to deliver visually perfect focus without blemish. The focusing lens groups adjust simultaneously with the zoom lens group to negate any curved field for immaculate cinematic performance and high-precision clarity at every corner of the image.

Central Lens Design for Efficient Installation
LK970's symmetrically centered lens design allows easy installation without the need for special considerations for offset installation.

Centralized Management and Diverse Application
Blank to Zero Lumens
BlueCore laser projectors feature spontaneous response, requiring no wait to turn on or resume from blanking in true black for flexible performance capability.

Ensure Consistent Brightness Blending with Custom Light Mode
Custom Light Mode modulates light power output from 20% to 100% to optimize the projected image in a variety of ambient lighting situations, especially useful for blending consistent brightness across multiple projections.

DICOM X-Ray Imaging
DICOM (Digital Imaging and Communication in Medicine) is a standard for handling, storing, printing, and transmitting medical imaging information. LK970's DICOM Simulation Mode is ideal for viewing grayscale medical images, such as X-rays, with an advanced grayscale level for training and educational purposes.

Network/Web Control
BenQ LK970 4K Laser Projector is compatible with Creston, AMX, and Extron control systems for convenient system integration with various third-party components and reduced the cost to centrally maintain multiple projectors.

Stay in Control with BenQ MDA Software
Empowering administrators to efficiently perform day-to-day scheduling, operation, and maintenance, the BenQ Multiple Display Administrator (MDA) software's dashboard enables powerful centralized monitoring, projector control, identification, and task management across an entire public display network from a single computer. The MDA can simplify routines such as opening and closing procedures in multiple halls, exhibitions, and meeting rooms via its scheduling features and remote power on/off capability.

HDBaseT for Uncompressed Transmission Up to 100m
The groundbreaking HDBaseT connectivity combines video, audio and device control signals from multiple sources including PCs, laptops, document cameras, Blu-rays, and DVDs onto a single CAT5 cable for seamless long-distance transmissions up to 100 meters.The groundbreaking HDBaseT connectivity combines video, audio and device control signals from multiple sources including PCs, laptops, document cameras, Blu-rays, and DVDs onto a single CAT5 cable for seamless long-distance transmissions up to 100 meters.

Eco-Conscious Standby Modes
Adhering to strict European regulations, networked standby power consumption is cut down to a mere 2 watts to reduce environmental impact and total cost of ownership. When in Standby Mode, power consumption is a minuscule 0.5 watts.
Avhämtning från butiken
Beräknad leveranstid: 27.05 - 30.05
Postens paketautomat
Beräknad leveranstid: 27.05 - 29.05
Postpaket
Beräknad leveranstid: 28.05 - 30.05
Matkahuolto Närpaket
Beräknad leveranstid: 28.05 - 30.05
Matkahuolto Busspaket
Beräknad leveranstid: 28.05 - 30.05
Till dörren-paket
Beräknad leveranstid: 28.05 - 29.05
Hempaket
Beräknad leveranstid: 28.05 - 29.05