MSI MAG Z690 Torpedo DDR5 ATX - moderkort
MSI MAG Z690 Torpedo DDR5 ATX - moderkort
ID: MAG Z690 TORPEDO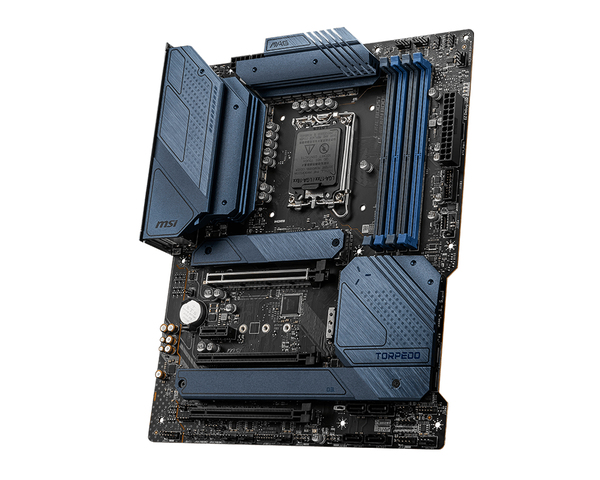 324

,90 €
262

,02 €
Visa Moms 0%
Visa Moms 24%
Webblager:
Beräknad leverans: 07.01 - 09.01
Byt butik
Produktspecifikation
Välj en eller flera funktioner för att söka efter produkter med samma specifikationer.
Produktspecifikation
Beskrivning
På lager i butiker
Leverans
Prisutveckling
Processor
Processortillverkare
Intel
Max antal processorer
1
Kompatibla processorer
Intel® Celeron®, Intel® Core™ i3, Intel® Core™ i5, Intel® Core™ i7, Intel® Core™ i9, Intel® Pentium®
Processorsockel
LGA 1700
Minne
Maximalt internminne
128 GB
Icke ECC
Minnets hastigheter
4000,5400,6400 MHz
Minnestyper som stöds
DDR5-SDRAM
Minneskanaler stöd
Dual-channel
obuffrat minne
Minnesplatser, typ
DIMM
Antal minnesplatser
4
Vikt & dimension
Höjd
65 mm
Bredd
305 mm
Djup
244 mm
Nätverk
Nätverksansluten (Ethernet)
LAN-styrenhet
Intel I225-V
Wi-Fi
Ethernet-gränssnitt typ
2.5 Gigabit Ethernet
Intern I/O
USB 2.0 anslutning
2
CPU fläkt anslutning
ATX strömkontakt (24-pin)
Chassi genomgångsanslutning
Antal anslutningar för fläktar
6
Ljudanslutning på framsidan
TPM anslutning
USB 3.2 Gen 1 (3.1 Gen 1)-anslutningar
1
Antal SATA III kontakter
6
12V-kontakt
Anslutningsmöjligheter
Antal USB 2.0 anslutningar
2
Antal LAN (RJ-45) anslutningar
1
S/PDIF-utgång
Digital optisk utgång för ljud
1
Antal HDMI-portar
1
HDMI-version
2.1
Antal Displayportar
1
DisplayPort-version
1.4
Antal USB 3.0 (3.1 Gen 1) typ A-portar
2
Antal USB 3.1 (3.1 Gen 2) typ A-portar
3
Antal USB 3.2 Gen 2 (3.1 Gen 2) typ C-portar
1
Lagringskontroll
RAID-nivåer
0, 1, 5, 10
RAID-stöd
Typer av lagringsenheter som stöds
HDD & SSD
Lagringsenhetsgränssnitt som stöds
M.2, SATA III
Förpackningens innehåll
Kabel inkluderad
SATA
Drivrutiner medföljer
Expansionsplatser
PCI Express x16 platser
3
PCI Express x1 (Gen 3.x)-kortplatser
1
Antal M.2 (M)-platser
4
BIOS
BIOS-typ
UEFI AMI
Clear CMOS-bygel
Övriga egenskaper
Vikt
1 kg
Grafiken
Stöd för parallellprocessteknik
Crossfire
Egenskaper
Moderkortets chipset
Intel Z690
Moderkort formfaktor
ATX
Ljudutgångskanaler
7.1 kanaler
Moderkort, chipsetfamilj
Intel
Komponent för
PC
Ljudchipp
Realtek ALC4080
EAN
4719072886578
Garanti
3 år
Source: Icecat.biz
PREMIUM HARDWARE DESIGN
With years of experience, MSI is no stranger to building high-performance motherboards. Our R&D and engineering teams have reviewed countless designs, evaluated a wide selection of high quality components, and developed products for reliability even under extreme conditions.

THERMAL SOLUTION FOR MORE CORES AND HIGHER PERFORMANCE
With more cores' processors, thermal and power design is more important to make sure the temperature keeps lower. MSI extended PWM heatsink and enhanced circuit design ensures even high-end Intel CPU to run in full speed with MSI motherboards.

M.2 SHIELD FROZR
World's fastest SSDs can start to lower performance when getting hot. Part of the motherboards heatsink design, M.2 SHIELD FROZR is the next generation M.2 thermal solution to avoid this by offering the best thermal protection to make sure that SSD maintains maximum performance.

FULLY CONTROLLABLE IN BIOS AND SOFTWARE
MSI motherboards let you manage speeds and temperatures for all your system and CPU fans. Total Fan Control allows you check your primary system characteristics in a simplified graphical interface. You can also set up to 4 temperature targets for CPU and motherboard, which will adjust the fan speeds automatically.

FROZR AI COOLING
Detecting CPU & GPU temperatures and automatically adjusting fan duty of system fans to a proper value by adopting MSI AI ENGINE.

DIY 2.0 – INTEGRATING WITH THE SYSTEM ENVIRONMENT
Connect and synchronize with MSI coolers and cases with strategically positioned pin-header locations including a dedicated pump-fan header.

CORE BOOST
Core Boost technology combines MSI's premium layout and digital power design which allows for faster and undistorted current delivery to the CPU at pin-point precision. Not only supporting multi-core CPU, also creating the perfect conditions for your CPU overclocking.

16 + 1 +1 DUET RAIL POWER SYSTEM
Unleash and sustain maximum performance with an aggressive VRM design built with digital CPU power system. Combining 8 + 8-pin power connectors and exclusive Core Boost technology, MAG series motherboard is ready to sustain heavy gaming loadings.

1-SECOND OVERCLOCKING!
MSI Game Boost enables one-second overclocking, giving you the performance boost you need to get more FPS.

LOAD-LINE CALIBRATION
What you set, is what you get. LLC makes sure your CPU voltage remains 100% stable under any load. This greatly improves stability when demanding more CPU performance.

OVERVOLTAGE PROTECTION
Prevents potential short-circuit damage to the CPU and other critical components.

DIGITALL POWER DESIGN
A fully digital power design allows for faster and undistorted current delivery to the CPU at pin-point precision. Creating the perfect conditions for CPU overclocking.

DOUBLE POWER CONNECTORS
Two 8-pin connectors deliver adequate power even for an overclocked multi-core CPU.

PRE-INSTALLED IO SHIELD
Featuring the pre-installed IO shielding, makes your installation process easier and safer. The patent-pending design protect your IO ports and also prevent electrostatic discharge damage, makes your motherboard a strong gaming foundation.

XL CLIP
The enlarged PCI-E clip helps you swap or remove your devices easier. Keep the PCI-E slot stronger and safer.

EZ DEBUG LED
Run into trouble? Onboard LEDs for key components will indicate the source of the problem so you know exactly where to look to get up and running again.

EZ LED CONTROL
A built-in LED button on the motherboard to control your light effect. Turn on/off your light in a second!

DIY GADGETS
With these useful accessories, you will build up your system more easily.

EZ M.2 Clip
Have trouble turning screws?
MSI innovative EZ M.2 clip assist you install an M.2 SSD quickly and effortlessly.

ULTIMATE MOTHERBOARD PROTECTION
Double ESD protection doubles up the grounding layer around the mounting holes, preventing static discharge surges from damaging the motherboard.

PCB DESIGN
The PCB design has been optimized for higher bandwidth and faster transfer speeds, which is also beneficial for reliable circuit transmission.

WINDOWS 11 CERTIFIED
With MSI you benefit from great compatibility and a worry-free user experience when using Microsoft Windows 11.
With a true dedication to performance, our R&D team has made sure everything works as intended when using the latest version of Microsoft Windows on any MSI product.

ENHANCED PERFORMANCE
High performance MSI motherboards are loaded with advanced features and the latest technology to overwhelm any challenge at hand no matter whether you're a gamer, prosumer, or PC enthusiast.

FAST AND FUTURE-READY STORAGE
MSI Z690 motherboards support all the latest storage standards, which allows users to connect any ultra-fast storage device. Higher efficiency makes your work easier.

OPTANE: BOOST YOUR HDD TO PERFORM LIKE AN SSD
PC Enthusiasts can now enjoy the performance of an SSD on their HDD by coupling it with the new Intel Optane Memory device. Intel Optane technology provides an unparalleled combination of high throughput, low latency, high quality of service, and high endurance.

CLICK BIOS 5
Get more from a loaded BIOS designed for ease of use. Fine-tune the motherboard for gaming performance, efficiency, or overclocking world records!

MSI CENTER
MSI brand new MSI Center unifies a suite of MSI software utilities into a single centralized application. Take control of advanced motherboards features and unleash endless possibilities.

RESIZABLE BAR (RE-SIZE BAR)
Resizable BAR (Re-Size BAR) is an advanced PCI Express feature that enables the CPU to access the entire GPU frame buffer at once and improve performance.

CONNECTIVITY
MSI motherboards are built with a variety of connectors to satisfy gamers. Enhanced audio, advanced LAN networking capabilities, USB and Mystic Light turn any gaming experience into an immerse one.

OPTIMIZE ONLINE GAMING TRAFFIC FOR LOWER LATENCY!
MSI LAN Manager automatically classifies and prioritizes the latency-sensitive applications for online games, giving you the best online gaming experience with low latency.

HIGH-BANDWIDTH AND LOW-LATENCY NETWORK
2.5Gbps LAN provides incredible data transfer speed faster than general Gigabit LAN. This is a premium solution for demanding users.

HIGH DEFINITION ALC4080 AUDIO PROCESSOR
From HD-A to USB Interface, twice the DAC format from 32-bit/192kHz to 32-bit/384kHz, deliver the highest sound quality.

HIGH QUALITY AUDIO CAPACITORS
A high fidelity sound experience with exceptional acoustics and realism for studio level headphones is ensured.

HD AUDIO CONNECTORS
HIGH QUALITY AUDIO JACKS WITH S/PDIF
Keep your sound perfect by transmit your audio with pure digital signal.

DEDICATED HEADPHONE AMPLIFIER
A dedicated headphone can drive audiophile headphones up to 600Ω impedance, delivering studio-grade sound quality from your gaming PC.

ISOLATED AUDIO DESIGN
Like a dedicated sound card, audio components and circuits have been laid on a reserved motherboard section and electrically isolated.

SEPARATED AUDIO LAYERS FOR CLEAN LEFT & RIGHT CHANNELS
Using separated layers in the PCB ensures equally pristine sound quality for both left and right audio channels.

Audio Boost protects your ears by eliminating those annoying loud popping sounds when you plug/unplug devices or turn your PC on/off.

EXTEND YOUR RGB EXPERIENCE WITH EASE
Add more color if you want! Mystic Light Extension pin header provides an intuitive way to control additional RGB strips and other RGB peripherals added to a system, without needing a separate RGB controller.
Avhämtning från butiken
Beräknad leveranstid: 06.01 - 09.01
Postens paketautomat
Beräknad leveranstid: 06.01 - 08.01
Postpaket
Beräknad leveranstid: 07.01 - 09.01
Matkahuolto Närpaket
Beräknad leveranstid: 07.01 - 09.01
Matkahuolto Busspaket
Beräknad leveranstid: 07.01 - 09.01
Till dörren-paket
Beräknad leveranstid: 07.01 - 08.01
Hempaket
Beräknad leveranstid: 07.01 - 08.01