PHILIPS HUE COLOR 6W E14
PHILIPS HUE COLOR 6W E14
ID: 929001301301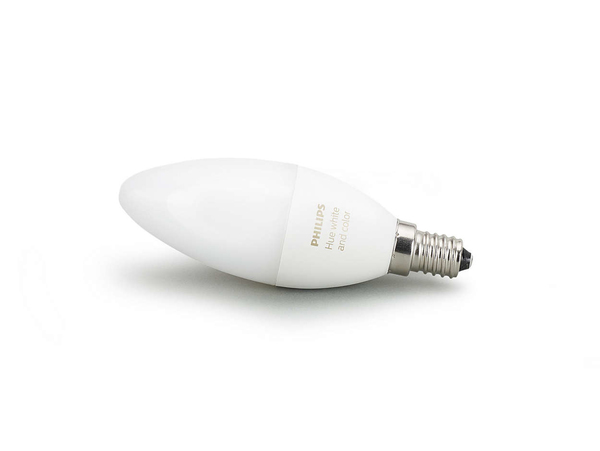 Modellen har utgått eller finns inte tillgänglig just nu. Vänligen kontakta vår kundtjänst för närmare information om den här produkten.
Inte tillgänglig för tillfället
Beräknad leverans: Okänd
Byt butik
Produktspecifikation
Beskrivning
På lager i butiker
Leverans
Prisutveckling
Tekniska data
Modell
Smart glödlampa
Strömförbrukning (vanlig)
6,5 W
Intervall för relativ operativ luftfuktighet
5 - 95%
Lampor
6,5 W
Livslängd på lampan
25000 h
Fäste/lock
E14
Dimbar
Färgskiftande
Antal lampor
1 lampor
Lämplig belysningstyp
Atmosfär
Lampans storlek
B39
Vikt & dimension
Höjd
39 mm
Bredd
117 mm
Strömtillförsel
AC-inspänning
220 - 240
Design
Produktens färg
Vit
EAN
8718696695166
Garanti
1 år
Source: Icecat.biz
Sync your Philips Hue lights with films and music

Extend your TV viewing experience to the whole room or lift your gaming experience to the next level. Download a third-party app and discover the amazing things you can do with Philips Hue. Or sync light to your favourite music and enjoy every beat to the fullest. Turn any room into a dance floor and see how light reacts to your music. Download one of the third-party apps and get the party started with Philips Hue.

Control your lights, your way

Connect your Philips Hue lights with the Bridge and start discovering the endless possibilities. Control your lights from your smartphone or tablet via the Philips Hue app, or add switches to your system to activate your lights. Set timers, notifications, alarms and more for the full Philips Hue experience.

Support your wake-up and go-to-sleep routine with light

Twist a Philips Hue candle into your bedside table lamp and it will help you to get out of bed the way you like to. Start your day smoothly with a warm sunrise. The gradually increasing brightness gives you the feeling you are waking up from natural light - rather than the rude awakening of an alarm. In the evening, relaxing warm white light helps you to unwind, relax and fall asleep more comfortably at night.

Pair with a wireless dimmer switch for easy wireless control

Control your Philips Hue lights directly with the wireless dimmer switch. You can turn the lights on and off, switch between the four different light recipes and dim to the right brightness. Installation is quick, simple and hassle-free. All you have to do is pair the switch with the lamp and place the switch anywhere in your home. It's that easy.

Create your ambience with warm white to cool daylight

Setting the ambience has never been easier with Philips Hue candle bulbs. Choose any shade of white light to set the ambience or decorate your home with a mix of warm and cool white light. You can enjoy different styles throughout the year, whether it's the crisp white light reminding you of a spring breeze, the warm white light of a summer sun or the ice-cool daylight of winter.

Create an immersive gaming experience

Lift your gaming to the next level. Philips Hue lights can sync to your games for an immersive gaming session. The lights respond to events in the game for an intense experience.

Relax, read, concentrate and energise with light recipes

Light influences our mood and behaviour. Philips Hue can help you to customise your daily routines into moments you can enjoy. Skip your morning coffee and get ready for the day with cool, bright white daylight that helps to energise your body and mind. Stay focused with finely tuned bright white light. Or put your feet up and relax with a soft glow of white light for the perfect end to the day.

Play with light and choose from 16 million colours

Play with light and choose from 16 million colours in the Hue app to match the light to your mood. Use a favourite photo and re-live that special moment with splashes of light. Save your favourite light settings and recall them whenever you want with the tap of a finger.

Set light schedules for easy home automation

Philips Hue can make it seem like you're at home when you're not, using the schedule function in the Philips Hue app. Set the lights to come on at a pre-set time, so the lights are on when you arrive home. You can even set rooms to light up at different times. And of course, you can let the lights turn off gradually in the night, so you never have to worry whether you've left any lights on.