ASUS XG Station PRO
ASUS XG Station PRO
ID: 90YV0B90-M0NA00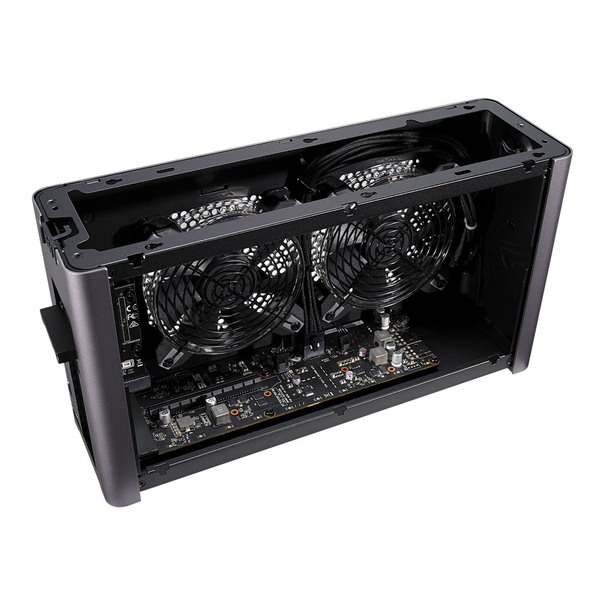 440

,90 €
355

,56 €
Visa Moms 0%
Visa Moms 24%
Webblager:
Beräknad leverans: 25.08 - 27.08
Byt butik
Produktspecifikation
Beskrivning
På lager i butiker
Leverans
Prisutveckling
Processor
Grafikprocessorfamilj
NVIDIA
Anslutningar
Värdgränssnitt
Thunderbolt 3
Utgränssnittet
PCIe
Antal USB 3.2 Gen 1 (3.1 Gen 1)typ C-portar
1
Vikt & dimension
Vikt
2,95 kg
Höjd
205 mm
Bredd
107 mm
Djup
375 mm
Strömtillförsel
Nätaggregatstyp
330 W
Förpackning
Kabel inkluderad
AC, Thunderbolt
Manual
Övriga egenskaper
Kompatibilitet
NVIDIA GeForce GTX 900, NVIDIA GeForce GTX 980, NVIDIA GeForce GTX 970, NVIDIA GeForce GTX 950, NVIDIA GeForce GTX 960, NVIDIA GeForce GTX 980 Ti, NVIDIA GeForce GTX 980 Titan X, AMD Radeon R9, AMD Radeon R9 270, AMD Radeon R9 270X, AMD Radeon R9 280, AMD Radeon R9 285, AMD Radeon R9 290X, AMD Radeon R9 360, AMD Radeon R9 380, AMD Radeon R9 380X, AMD Radeon R9 390, AMD Radeon R9 390X, AMD Radeon R9 Fury
Höljefärg
Grå
Design
Intern
EAN
4712900944839
Garanti
3 år
- All-new aluminum chassis holds full-length 2.5-slot graphics cards
- In Win collaboration offers beautiful and functional design
- Save desk space and reduce heat with a design that uses an external adapter
- 2x 120mm built-in fans provide superior cooling
- Thunderbolt 3 allows you to upgrade your notebook graphics without buying a new system
- Compatible with Windows and macOS

From laptop to workstation
ASUS XG Station Pro is the sleek, stylish dock that connects your Ultrabook®, MacBook® or other Thunderbolt 3-equipped notebook computer to a desktop graphics card. With XG Station Pro and a high-performance GPU you can render videos, run scientific models or build deep-learning applications ― it has all the performance you need. Co-designed with In Win, XG Station Pro looks great on any desk and, unlike other docks, has a powerful cooling system that drastically improves thermal performance.

All-new aluminum chassis
XG Station Pro features a totally redesigned aluminum chassis. Dressed in elegant Space Grey and carefully accented with pinhole ventilation and subtle logos, it's the perfect complement to modern premium notebooks. The finest industrial design favors both form and function, and XG Station Pro delivers in both respects. Despite its diminutive size, XG Station Pro will hold full-length, 2.5-slot graphics cards ― and because its side and top panels are easy to remove, installation is quick and effortless.

ASUS and In Win ingenuity, combined
To design XG Station Pro, ASUS collaborated closely with In Win — the well-known maker of premium computer chassis. Our engineers and designers created a device that is both functional and beautiful, with practical design elements and tasteful details. These include kink-resistant braided cabling, removable dust filters and, of course, In Win's signature aluminum metalworking.

Save desk space
Many external graphics docks employ internal power-supply units that add both bulk and heat — but not XG Station Pro. The all-new ASUS dock draws its power from a custom 330W external adapter. This greatly reduces the size of the dock, freeing up precious desk space. It also removes power-supply heat from the dock itself, and affords room for two large, efficient fans inside XG Station Pro.

Superior cooling, and silence
Dual 120mm exhaust fans are coupled with ample ventilation space, enabling XG Station Pro to deliver exceptional thermal performance that's easily tailored to your needs. Most eGPUs will rely on a static profile that spins fans at a constant RPM and doesn't offer any user control, but with XG Station Pro and an ASUS desktop graphics cards, fans of both devices can be independently controlled via the intuitive ASUS GPU Tweak II software — providing the ability to reduce noise output to 0dB during light loads.

Thunderbolt 3
Thunderbolt 3 transfers data up to 8X faster than USB 3.0, for speeds of up to 40Gbps, and offers 4X the video bandwidth of HDMI 1.4 — so it's the perfect way for XG Station Pro to connect to your notebook. To make that process as simple as possible, XG Station Pro comes with a 1.5m active Thunderbolt 3 cable, so you're good to go from the moment you open the box.

Empowering graphics
With XG Station Pro it's easy to upgrade your Thunderbolt 3-equipped computer's GPU, saving the cost and inconvenience of having to purchase a whole new system. Modern Windows systems are compatible with NVIDIA GTX and AMD Vega cards, while macOS systems will work with AMD Vega and other cards.
Avhämtning från butiken
Beräknad leveranstid: 24.08 - 27.08
Postens paketautomat
Beräknad leveranstid: 24.08 - 26.08
Postpaket
Beräknad leveranstid: 25.08 - 27.08
Matkahuolto Närpaket
Beräknad leveranstid: 25.08 - 27.08
Matkahuolto Busspaket
Beräknad leveranstid: 25.08 - 27.08
Till dörren-paket
Beräknad leveranstid: 25.08 - 26.08
Hempaket
Beräknad leveranstid: 25.08 - 26.08