ZYXEL PMG5617GA GPON ONT
ZYXEL PMG5617GA GPON ONT
ID: PMG5617GA-EU01V1F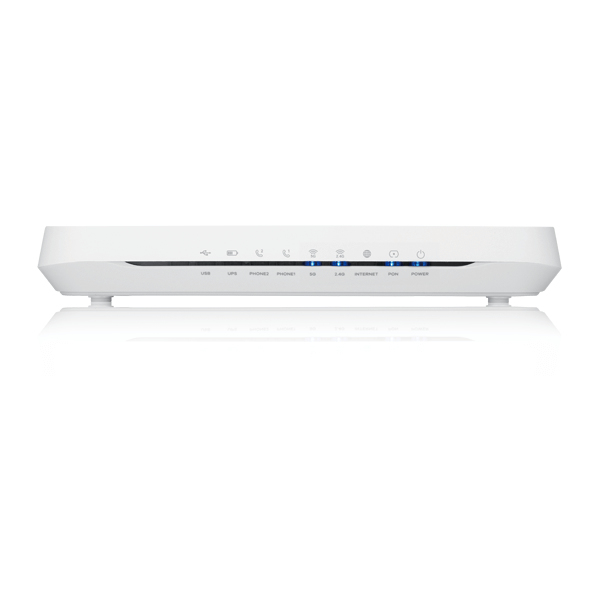 134

,90 €
108

,79 €
Visa Moms 0%
Visa Moms 24%
Webblager:

1 st
Beräknad leverans: 02.03 - 04.03
Byt butik
Produktspecifikation
Beskrivning
På lager i butiker
Leverans
Prisutveckling
Anslutningar
Antal LAN (RJ-45) anslutningar
4
Likströmsingång
Antal RJ-11-portar
2
USB-version
2,0
Antal USB-portar
1
Vikt & dimension
Vikt
447 g
Höjd
35 mm
Bredd
250 mm
Djup
160 mm
Strömtillförsel
Utgångsspänning
12 V
Uteffekt
2 A
Strömförbrukning (max)
17 W
Miljökrav
Intervall för relativ operativ luftfuktighet
10 - 90%
Temperaturintervall (förvaring)
-30 - 70 ° C
Temperatur vid drift
0 - 45 ° C
Fuktighet (förvaring)
10 - 95%
Nätverk
Kommunikationsstandarder
IEEE 802.11a,IEEE 802.11ac,IEEE 802.11b,IEEE 802.11g,IEEE 802.11n,IEEE 802.1D,IEEE 802.3x
IGMP-snooping
Portvidarebefordran
VLAN-stöd
Multicast listener discovery (MLD)-snooping
IPv6 MLD v1/v2
Förpackning
Vikt inkl. förpackning
656 g
Låddjup
200 mm
Höjd
50 mm
Förpackningens bredd
370 mm
Trådlös LAN
Wi-Fi-standarder
802.11a,802.11b,802.11g,Wi-Fi 4 (802.11n),Wi-Fi 5 (802.11ac)
Wi-Fi
Wi-Fi Multimedia (WMM)/(WME)
Management features
Stöd för garanterad tjänstekvalitet (QoS)
Webbaserad adminstraion
Universal Plug and Play (UPnP)
Förpackningens innehåll
Inklusive nätadapter
Kabel inkluderad
LAN (RJ-45), Telefon (RJ-11)
Snabbstartsguide
Design
Indikationer
Produktens färg
Vit
På / av-knapp
Produkttyp
Optical network terminal (ONT)
EAN
4718937601578
Garanti
2 år
Source: Icecat.biz
The Zyxel PMG5617GA is a dual-band wireless ONT Home Gateway Unit (HGU) fully compliant with ITU-T G.984 and Wireless IEEE 802.11ac/n that provides ultra high-speed fiber access along with 4-ports GbE LAN for wired connection, 2-port FXS for VOIP services, one USB 2.0 port and 2x2 11AC and 2x2 11N Wireless LAN configuration.

With years of Zyxel's worldwide GPON end-to-end experience in the field, the PMG5617GA is flexible to fit into various deployment environments based on unique network topology requirements from customers. Furthermore, the Zyxel CPE OPAL trunk contains a rich software feature set that substantially help the GPON PMG product series to accelerate the time-to-market speed and to become more powerful on delivering customization software features to operators.

Apart from adopting the latest 802.11ac technology to expand dual-band concurrent wireless connections, the Zyxel PMG5617GA enhances its WiFi circuit design to ensure superior, stable wireless performance on both 2.4 GHz and 5 GHz bands while maintaining backward compatibility with any IEEE 802.11 b/g/n WiFi-certified device. Besides, the Zyxel PMG5617GA further incorporates Front-end Module (FEM) into its hardware design to eliminate most possible dead zones in any environment for end users to enjoy a seamless wireless experience everywhere with this standalone ONU home gateway.

Keeping the same Web GUI and management interface, such as CLI command set that makes it extremely easy for Telco operators to migrate from the existing wireless N300 ONT to the new dual-band wireless PMG5617GA that provides outstanding triple-play experience without huge investment on operating expenses. Moreover, the ultra-thin hardware design significantly minimizes the housing height to 32mm with brushed finish on surface makes the PMG5617GA not only an advanced optical terminal Home Gateway Unit, but also a delicate, elegant decoration for the interior space.

Unlimited possibility with GPON fiber
Internet evolves rapidly as more and more services and applications keep on their pace of innovation. With the continuous growth of smart homes, high-definition TV, virtual reality and augmented reality, the need for higher transmission speed is growing quickly as well. To meet the bandwidth demand, GPON is an essential technology to help service providers satisfying bandwidth demands not only for now, but also for the future. With the one-time investment on fiber, service providers can deploy future-proof, all IP-based networks with lower management cost.

Lower OPEX with Zyxel OMCI & APS
The Zyxel PMG5617GA Dual-Band Wireless AC/N GPON HGU with 4-port GbE LAN comes with the Zyxel-specific OMCI parameter that works perfectly with Zyxel's own EMS and OLT systems. With the E2E-capable parameters, Zyxel provides not only the standard parameters defined by OMCI, but also some specific parameters that help service providers to diagnose, operate and manage their fiber networks.

Together with Zyxel's E2E EMS & OLT system, the Zyxel ONT supports a unique auto-provisioning feature that helps service providers to easily provision WAN and VoIP configurations without sending technicians to the field for configuration setups.

Superior coverage with unique concurrent dual-band wireless circuit design
As the number of wireless home devices increases, wireless LAN is becoming the key of resident connectivity and the major factor for service providers to differentiate their services. Since access data rate of the WAN is no longer a bottleneck for end users with GPON technology, operators are looking for higher WiFi transmission speeds to ensure high-speed data and multimedia applications can reach every corner in homes or offices.

Leveraging the expertise from the development of Zyxel's professional wireless AP, Zyxel's PMG5617GA not only adopts the latest 802.11ac technology, but also comes with optimized WiFi circuit design to ensure superior, stable wireless performance on both 2.4 GHz and 5 GHz bands. With Front-end Module (FEM) on board, the PMG5617GA can further enhance the transmission power and receiver linearity to improve the overall wireless coverage for guaranteed seamless WiFi experience that leads to better customer satisfaction.

Zyxel OPAL firmware offers better flexibility and faster time to market
By adopting same OPAL firmware trunk applied in the Zyxel CPE, the Zyxel PMG5617GA inherits a rich, field-proven feature set such as TR-069, VoIP and more. Service providers can now expect the same user experience when they migrate from the original DSL CPE to Fiber devices. Furthermore, the lab qualification time can be substantially reduced by using the same OPAL firmware trunk.

CPE is pivotal for many service providers to provision value-added services as more and more applications are coming to home and business environments. As a flexible, future–proof software platform, OPAL is a modular software architecture and open framework that provides the flexibility for easy feature tailoring to assure all the application requests can be addressed.
Avhämtning från butiken
Beräknad leveranstid: 01.03 - 04.03
Postens paketautomat
Beräknad leveranstid: 01.03 - 03.03
Postpaket
Beräknad leveranstid: 02.03 - 04.03
Matkahuolto Busspaket
Beräknad leveranstid: 02.03 - 04.03
Till dörren-paket
Beräknad leveranstid: 02.03 - 03.03
Matkahuolto Närpaket
Beräknad leveranstid: 02.03 - 04.03
Hempaket
Beräknad leveranstid: 02.03 - 03.03