HP 15s 15.6" R3-5300U, 8GB, 256GB, Win 10 Home - notebook, Black
HP 15s 15.6" R3-5300U, 8GB, 256GB, Win 10 Home - notebook, Black
ID: 390N6EA#UUW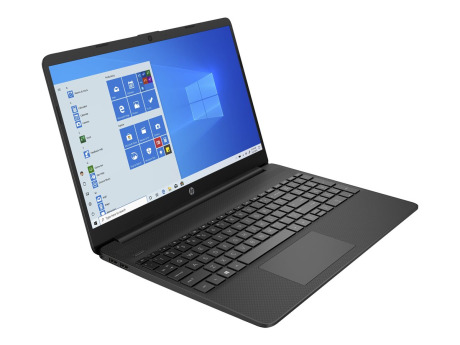 Product is end of life or currently not available. Please contact our customer service for more information regarding this product.
Online store:

18 pcs
Estimated delivery: 25.05 - 27.05
Change store
Express Delivery from our Warehouse
This product will be shipped on the same day, if you place order before 12:00. Usually it takes 1-2 days for the order to be delivered with Posti or Matkahuolto to all places in Finland. For orders to Ahvenanmaa it takes 2-3 days.
Learn more
Specifications
Description
Delivery
Price development
Processor
Processor model
5300U
Processor family
AMD Ryzen 3
Processor cores
4
Processor threads
8
Processor boost frequency
3.80 GHz
Processor cache
4 MB
Memory
Internal memory type
DDR4
Memory clock speed
3200 MHz
Memory layout (slots x size)
1 x 8 GB
Internal memory
8 GB
Display
Aspect ratio
16:9
Display diagonal
39.6 cm (15.6")
Display resolution
1920 x 1080 pixels
Full HD
Touchscreen
Display surface
Matt
Audio
Built-in microphone
Ports & interfaces
HDMI ports quantity
1
USB 3.2 Gen 1 (3.1 Gen 1) ports quantity
2
Combo headphone/mic port
USB 3.2 Gen 1 (3.1 Gen 1) Type-C ports quantity
1
Weight & dimensions
Weight
1.69 kg
Energy management
AC adapter power
45 W
Keyboard
Numeric keypad
Full-size keyboard
Networking
Wi-Fi standards
Wi-Fi 6
Bluetooth version
5.2
Ethernet LAN
Bluetooth
Wi-Fi
Storage
Total storage capacity
256 GB
Card reader integrated
Storage media
M.2 SSD
Operating system/software
Operating system installed
Windows 10 Home
Operating system architecture
64-bit
Camera
Front camera
Battery
Battery technology
Lithium
Number of battery cells
3
Battery capacity (Watt hours)
41 Wh
Design
Product colour
Black
Product type
Notebook
Graphics
On-board graphics card model
AMD Radeon Graphics
EAN
195908094340
Pysy yhteydessä tärkeisiin ihmisiin ja asioihin tämän ohuen ja kevyen, mikroreunaisen kannettavan pitkän akunkeston avulla. HP:n 15,6 tuuman kannettavan luotettavan suorituskyvyn ja laajan näytön ansiosta suoratoistat sisältöä, surffaat verkossa ja suoriudut tehtävistä vaivatta vuorokauden ympäri – päiväsi tehostuu ja viihdyt paikassa kuin paikassa.

Näe enemmän, kanna vähemmän
Ohut, kevyt ja suunniteltu matkakäyttöön. Näe kuvat, videot ja projektit entistäkin paremmin mikroreunaisella 6,5 mm:n näytön kehyksellä.

Luotettavaa suorituskykyä
Luotettava prosessoriteho auttaa selättämään kiireisimmätkin työpäivät. Tallenna tärkeät asiat reilun kokoiseen valokuville, videoille ja asiakirjoille tarkoitettuun tallennustilaan.

Pidempään, tehokkaammin
Pitkän akunkeston ja HP Fast Charge -pikalatauksen avulla voit työskennellä, viihtyä ja pysyä yhteydessä koko päivän. Sisäänrakennettu tarkka kosketuslevy ja monikosketustoiminnot nopeuttavat navigointia ja parantavat tuottavuutta.

Sormenjälkilukija
Kirjaudu laitteeseen saumattomasti ja suojatusti sormen kosketuksella.

AMD Ryzen 5000 U -sarjan mobiiliprosessorit
Jos videokokouksien, verkkoselaamisen, laskentataulukkojen laatimisen ja esitysten luomisen välillä puikkelehtiminen edustaa tavallista työpäivääsi, silloin AMD Ryzen 5000 -sarjan mobiiliprosessorilla toimivat laitteet on rakennettu juuri sinua varten.

Full HD -näyttö
Voit rentoutua ja nauttia kristallinkirkkaasta kuvasta ja eloisasta laadusta 2 miljoonan pikselin ansiosta. 1 920 × 1 080 -tarkkuus antaa kaikelle digitaaliselle sisällölle uuden ulottuvuuden.

PCIe SSD -tallennus
Laite käynnistyy hetkessä jopa 256 Gt:n salamannopealla PCIe SSD -kovalevyllä.

DDR4 RAM
DDR4 on RAM-muistin tulevaisuus. Se toimii tehokkaammin ja luotettavammin suuremmilla nopeuksilla. Sen kaistanleveys on suurempi, joten kaikki moniajosta pelien pelaamiseen sujuu tehokkaammin.

SD- ja Micro SD -kortinlukijat
Kun asetat SD- tai Micro SD -kortin kortinlukijaan, saat enemmän tallennustilaa elokuvia, valokuvia ja musiikkia varten ja voit käyttää korttiin tallennettua sisältöä.

Täysikokoinen taustavalaistu näppäimistö, jossa kiinteä numeronäppäimistö
Täysikokoisella näppäimistöllä ja kiinteällä numeronäppäimistöllä voit kirjoittaa mukavasti ja parantaa tuottavuutta. Näppäinten liikerata on 1,5 mm.

HP Imagepad ja mahdollisuus käyttää monen kosketuksen eleitä
Aito monikosketuksia tukeva touchpad tukee neljän sormen eleitä, joten voit vierittää, zoomata ja siirtyä yhdellä kosketuksella.

HP True Vision HD -kamera
Selkeitä videojutteluita jopa hämärässä. Keskustelut vaikuttavat kasvokkaisilta, joten yhteydenpito sujuu helpommin.