Computers & Tablets
Servers
HPE NC112T - Verkkoadapteri - PCIe matala profiili - 10Mb LAN, 100Mb LAN, GigE - 10Base-T, 100Base-TX, 1000Base-T malleihin ProLiant DL360p Gen8, DL380 G6, Micr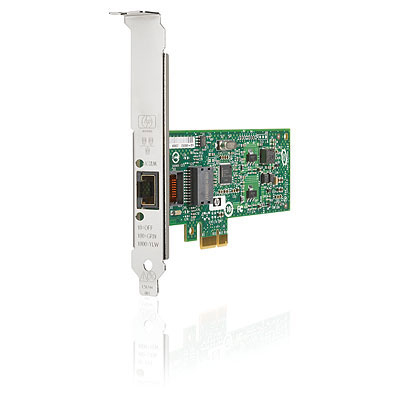 Multitronic warehouse
1 pcs
Multitronic - JNT Pietarsaari
0
Multitronic / iTronic Lappeenranta
0
Multitronic / iTronic Jyväskylä
0
Estimated delivery time
1-4 days
Fetch from the shop
0,00 €
Parcel to the Doorstep
11,10 €
Home Delivered Parcel
11,70 €
Matkahuolto Near Parcel
6,20 €
Matkahuolto Bus Parcel
4,10 €
More info about this product
Technical information
BUS
PCI Express
CARD SLOTS
RJ-45
GROUP
SERVER OPTION
PRIMARY COUNTRY
Universal, Universal
SPECIFICATIONS
Communications Processor: Intel 82574L<br><br /> On-board memory: 32 KB<br /> Data rate: 10/100/1000 Mbps, Half- and full-duplex<br><br /> Data path: Single lane (x1) PCI Express compatible with x1, x4, x8, and x16 PCI Express slots<br><br /> Interrupt levels: Automatically configured<br><br /> Distance and Wiring: Up to 328 feet/100 m with Category 5 (or better) twisted-pair cabling
SPEED
10/100/1000 Mbps
EAN
4948382604743
Read more...
The HP NC112T is a low-priced Gigabit Ethernet server adapter that features single-port, copper, single lane (x1) PCI Express capability, with 32KB onboard memory that provides 10/100/1000T auto-negotiated speed and duplex. It makes use of the latest Intel 82574L silicon and is suitable for both standard and low profile slots.

- Entry level single port, PCI Express (x1), copper Gigabit NIC
- Latest single port Intel 82574L Chipset
- Support for low-profile & standard slots
Read more...