Sound Cards
Creative SB Audigy FX7-1 PCIe- 24-bit- Bulk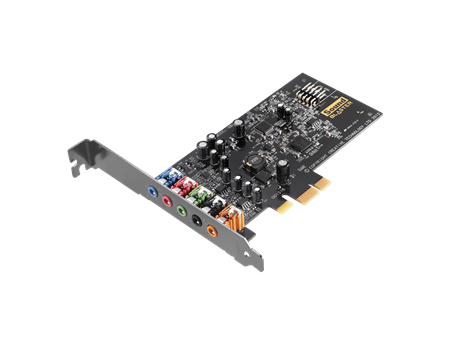 Online store:
1 pcs available
Estimated delivery time: 1-2 weeks
Shipment cost:

from 3,90 €
Fetch from the shop
0,00 €
Parcel to the Doorstep
11,10 €
Home Delivered Parcel
11,70 €
Matkahuolto Near Parcel
6,20 €
Matkahuolto Bus Parcel
4,10 €
System requirements
Minimum hard disk space
600 MB
Minimum processor
Intel Core 2 Duo / AMD, 2.2GHz
Minimum RAM
1024 MB
Optical drive required
Audio
Internal
Audio quality
24 bit
Audio output channels
5.1 channels
Line-out Signal-to-Noise Ratio (SNR)
106 dB
Ports & interfaces
Line-in
Headphone outputs
1
Microphone in
Host interface
PCI-E x1
Subwoofer out
Operating system/software
Bundled software
Sound Blaster Audigy Fx Control Panel, Creative ALchemy, Creative Software AutoUpdate, Creative Host Open AL / EAX5.0 HD, Creative Diagnostics
Windows operating systems supported
Windows 7 Home Basic,Windows 7 Home Basic x64,Windows 7 Home Premium,Windows 7 Home Premium x64,Windows 7 Professional,Windows 7 Professional x64,Windows 7 Starter,Windows 7 Starter x64,Windows 7 Ultimate,Windows 7 Ultimate x64,Windows 8,Windows 8 Enterprise,Windows 8 Enterprise x64,Windows 8 Pro,Windows 8 Pro x64,Windows 8 x64,Windows 8.1,Windows 8.1 Enterprise,Windows 8.1 Enterprise x64,Windows 8.1 Pro,Windows 8.1 Pro x64,Windows 8.1 x64,Windows Vista Business,Windows Vista Business x64,Windows Vista Enterprise,Windows Vista Enterprise x64,Windows Vista Home Basic,Windows Vista Home Basic x64,Windows Vista Home Premium,Windows Vista Home Premium x64,Windows Vista Ultimate,Windows Vista Ultimate x64
EAN
5052183868767
Warranty
1 year
Source: Icecat.biz
5.1 PCIe Sound Card with SBX Pro Studio
Sound Blaster Audigy Fx is the perfect upgrade from basic motherboard audio to legendary Sound Blaster audio. Powered by SBX Pro Studio technology, it provides high-quality 5.1 cinematic sound for your movies, music and games. It comes with the Sound Blaster Audigy Fx Control Panel, which puts you in full control of your SBX Pro Studio settings.

The perfect Sound Blaster upgrade
The Sound Blaster Audigy Fx is a half-height sound card that's powered by SBX Pro Studio technology. It instantly converts your system to a 5.1 entertainment system that delivers cinematic surround sound - perfect for bringing out the best in your movies, music and games! The Sound Blaster Audigy Fx also features a 24-bit 192kHz digital-to-analog converter (playback), 106dB SNR and a high-end 600-ohm headphone amplifier for studio-grade monitoring. Interchangeable full-height and half-height metal brackets are included to give you the flexibility of installing the sound card in small form factor desktop PCs.

Enjoy multi-channel cinematic sound
The half-height PCIe sound card is just the perfect size for your home theatre PCs. You can now upgrade your cinematic experience with Sound Blaster audio fidelity. Sound Blaster Audigy Fx comes with 5.1 channel outputs so you can connect to your existing multi-channel speakers with ease.

Independent input sources
Sound Blaster Audigy Fx comes with independent line-in and microphone connectors, which allow you to plug in two different audio sources to your PC.

You can plug in your MP3 player and sing along, while recording your singing session for your friends to enjoy!

Stereo Direct lets you listen to your music unprocessed at the amazing bit-rate of 24-bit 192 kHz, which is considered one of the highest in the industry.

Elevate the level of immersion in your cinematic experience with the Sound Blaster Audigy Fx, which is capable of delivering 106dB SNR of pristine audio fidelity through your speakers.

If you wish to enjoy your movies without disturbing your family, Sound Blaster Audigy Fx is able to deliver 600 ohms of power, exceeding the requirements of today's most demanding headphones!

Control and customize your audio
Sound Blaster Audigy Fx comes with SBX Pro Studio suite of technologies, which is designed to bring cinematic difference to home theatre PCs! You can also adjust the level of immersion you like, simply by adjusting the sliders on the Audigy Fx Control Panel.
Multitronic - JNT Vaasa
Hovioikeudenpuistikko 18, 65100, Vaasa
Ma-Pe 10:00-18:00
La 11:00-15:00
Multitronic - JNT Pietarsaari
Alholminkatu 3, 68600, Pietarsaari
Ma-Pe 09:00-17:00
La 10:00-14:00
Multitronic / iTronic Jyväskylä
Gummeruksenkatu 6, 40100, Jyväskylä
Mon-Fri 10:00-17:00
Multitronic / iTronic Lappeenranta
Valtakatu 41, 53100, Lappeenranta
Mon-Fri 10:00-18:00
Sat 10:00-16:00
Multitronic Mariehamn
Torikatu 12, 22100, Maarianhamina
Mon-Wed, Fri: 10:00-17:00
Thu: 10:00-20:00
Sat: 11:00-15:00
iTronic Seinäjoki
Suupohjantie 45, 60320, Seinäjoki
Mon-Fri 10:00-18:00
Sat 10:00-15:00
iTronic Vaasa
Hovioikeudenpuistikko 19, 65100, Vaasa
Mon-Fri 10:00-18:00
Sat 11:00-15:00
Multicare Pietarsaari
Alholminkatu 5, 68600, Pietarsaari
Mon-Fri 09:00-17:00
Sat 10:00-14:00