Asus ROG STRIX B550-E GAMING ATX-emolevy
Asus ROG STRIX B550-E GAMING ATX-emolevy
ID: ROG STRIX B550-E GAMING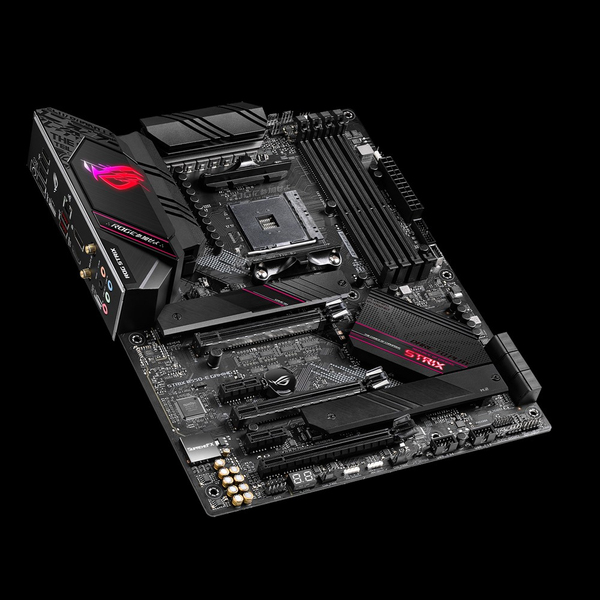 321

,90 €
259

,60 €
Näytä ALV 0%
Näytä ALV 24%
Tällä hetkellä ei saatavilla
Arvioitu toimitus: Tuntematon
Vaihda myymälä
Tärkeimmät tekniset tiedot
Valitse yksi tai useampi ominaisuus etsiäksesi tuotteita, joilla on samat tekniset tiedot.
Tuotetiedot
Kuvaus
Myymäläsaatavuus
Toimitus
Hinnan muutokset
Prosessori
Suoritinvalmistaja
AMD
SMP-suorittimien enimmäismäärä
1
Yhteensopivat prosessorit
3rd Generation AMD Ryzen™ 3, 3rd Generation AMD Ryzen 5, 3rd Generation AMD Ryzen™ 7, 3rd Generation AMD Ryzen™ 9
Prosessorin kanta
AM4
Muisti
Sisäinen enimmäismuisti
128 GB
ECC
Tuetut muistin kellotaajuudet
2133,2400,2666,2800,3000,3200,3466,3600,3866,4000,4133,4266,4400,4600 MHz
Tuetut muistityypit
DDR4
Muistikanavat
Kaksikanava
Unbuffered memory
Muistipaikkojen tyyppi
DIMM
muistipaikkojen määrä
4
Paino ja mitat
Tuotteen korkeus
75 mm
Tuotteen leveys
305 mm
Tuotteen syvyys
244 mm
Verkko
Wi-Fi-standardit
802.11a, 802.11b, 802.11g, Wi-Fi 4 (802.11n), Wi-Fi 5 (802.11ac), Wi-Fi 6 (802.11ax)
Bluetooth-versio
5.1
Ethernet LAN
Bluetooth
Wake-on-LAN -valmius
LAN-kontrolleri
Intel I225-V
Wi-Fi
Ethernet-liitännän tyyppi
2.5 Gigabit Ethernet
Sisäinen I/O
USB 2.0-liittimet
2
CPU-tuuletinliitin
ATX-virtaliitin (24-pin)
EATX-virtaliitinten määrä
1
Kotelotuulettimien liitinmäärä
3
USB 3.2 Gen 1 (3.1 Gen 1) liittimet
1
USB 3.1 (3.1 Gen 2) -yhdistimet
1
12V liitin
Takapaneelin I/O-portit
USB 2.0 -porttien määrä
5
Ethernet LAN (RJ-45) -portit
1
HDMI-porttien lukumäärä
1
HDMI-versio
2.1
DisplayPort-portteja
1
DisplayPort versio
1.2
USB 3.0 (3.1 Gen 2) A-tyypin porttien määrä
2
USB 3.2 Gen 2 (3.1 Gen 2) C-tyypin porttien määrä
1
Tallennustilan ohjaimet
RAID-tasot
0, 1, 10
Tuetut tallennusasematyypit
HDD & SSD
Tuetut tallennusasemaliitännät
SATA III
Laajennuspaikat
PCI Express x1 (Gen 3.x)-paikat
2
PCI Express x16 (Gen 3.x)-paikat
1
M.2 (M) paikkojen määrä
2
BIOS
BIO- muistin koko
256 Mbit
BIOS-tyyppi
UEFI AMI
Muut ominaisuudet
Paino
945 g
Grafiikka
Tuettu rinnakkaiskäsittelyteknologia
SLI
Ominaisuudet
Emolevyn piirisarja
AMD B550
Emolevyn muototekijä
ATX
Äänilähdön kanavat
7.1 kanavaa
Windows-käyttöjärjestelmätuki
Windows 10 x64
Emolevyn piirisarjan perhe
AMD
Komponentti (tuotteelle)
PC
Äänikortti
SupremeFX S1220A
EAN
4718017750264
Source: Icecat.biz
ROG Strix B550 Gaming series motherboards offer a feature-set usually found in the higher-end ROG Strix X570 Gaming series, including the latest PCIe 4.0. With robust power delivery and effective cooling, ROG Strix B550 Gaming is well-equipped to handle 3rd Gen AMD Ryzen CPUs. Boasting futuristic aesthetics and intuitive ROG software, ROG Strix B550-E Gaming gives you a head start on your dream build.

Advance Your Gaming Immersion
ROG Strix B550-E Gaming is PCIe 4.0-ready and provides the latest connectivity options for supersmooth networking and blisteringly fast file transfers. Audio enhancements give you a massive advantage, allowing you to pick up on the subtlest of cues for a completely immersive gaming experience.

WiFi 6 (802.11 ax)
Onboard WiFi 6 (802.11ax) supports ultrafast wireless-networking speeds, improved capacity and better performance in dense wireless environments, providing exceptional online gaming experiences. Pair your motherboard with ASUS WiFi 6 routers to fully experience the networking potential of WiFi 6. Find out more about ASUS WiFi 6 solutions.

Intel 2.5 Gb Ethernet
Onboard 2.5 Gb Ethernet gives your wired connection a boost, with speeds that are 2.5 times faster than standard Ethernet connections for speedy file transfers, lag-free gaming, and high-res video streaming.

SupremeFX
Built-in ROG SupremeFX audio technology ensures pristine audio for ROG Strix B550-E Gaming. Along with ensuring a flat frequency response for a neutral, detailed sound signature, it offers two front-panel outputs driven by op amps that deliver high-quality audio to gaming headsets.

All-round Performance
ROG Strix B550-E Gaming provides robust power delivery to fuel Ryzen's cores, comprehensive cooling, and support for faster memory — so it has everything you need to load up your build with high-performance components for playing in the big leagues.

ASUS OptiMem II
To provide AMD's latest CPUs unfettered access to memory bandwidth, motherboard trace routing has been reimagined with the ROG Strix B550-E Gaming. Integrated OptiMem II technology carefully maps memory signal pathways across PCB layers to reduce vias, and it also adds shielding zones that significantly reduce crosstalk. To further enhance overclocking headroom for fully stacked memory configurations, a highly customized Daisy Chain layout delivers time-aligned signaling.

Play Your Own Style
The cyberpunk-inspired aesthetics of ROG Strix B550-E Gaming are accentuated by the bold slashes and cybertext. By pairing your rig with other products from the diverse ROG ecosystem, you can create a fully customized gaming setup that reflects your personal style.

UNDENIABLY ROG STRIX
ROG Strix B550-E Gaming embodies the ROG spirit with eye-catching aesthetics, including the next-generation distorted ROG eye logo and recessed cybertext patterning etched on the I/O shroud. These new designs move ROG Strix boldly into the future, while clearly reflecting the series' gaming roots.

Pre-mounted I/O shield
Patented I/O shield is finished in sleek matte black and comes pre-mounted to make it easy to install on the motherboard.

Q-Code
Diagnostic codes provide a quick reference to help resolve common installation or component issues

FlexKey
Front-panel header allows customization of the front-panel chassis reset button, providing options for quick access to Aura lighting controls, DirectKey, or system reset

BIOS FlashBack
Users can place a BIOS file onto a FAT32-formatted USB drive and simply plug it into the USB BIOS FlashBack port and press a button to update the (UEFI) BIOS. Updates can be made even if memory or CPU aren't present

CERTIFIED COMPATIBILITY
ROG Strix motherboards undergo an extensive certification program to ensure the very best compatibility with the widest range of components and devices. For a smooth build process, refer to our list of guaranteed-compatible components. To help with memory upgrades, the list also includes a dedicated Qualified Vendor list (QVL).

The ROG Strix Ecosystem Awaits
Up your game with ROG Strix. Enjoy complementary aesthetics, control and compatibility across AIO coolers, cases, peripherals, and much more! ROG offers more choices than any other brand.

ROG Gives You More
ROG-exclusive software utilities deliver intuitive audio tuning and gaming enhancements that allow you to configure your gaming build the way you want.

5-Way Optimization
Take care of complex tuning with just one click. ASUS 5-Way Optimization is a system-wide tuning utility that overclocks the processor and tunes fan speeds to ensure the best balance between cooling and acoustics. The automated CPU tuning feature of 5-Way Optimization leverages the same onboard intelligence as AI Overclocking, but goes further by running a Prime95-based stress test that continually monitors the system.

AI Networking
The proprietary ROG GameFirst VI utility is designed to help all users — beginners, experts, and everyone in between — optimize network settings to ensure smooth online gameplay. New to this generation, GameFirst VI features AI-enhanced identification and boost technology to ensure faster and smarter network optimization.

Armoury Crate
Armoury Crate is a new software utility designed to give you centralized control of supported gaming products, making it easy to tune the look and feel of your system. From a single intuitive interface, Armoury Crate lets you easily customize RGB lighting and effects for compatible devices and synchronize them with Aura Sync to create a unified lighting scheme across your system. You can also use Armoury Crate to download the user manual, drivers and software. In addition, Armoury Crate features a dedicated product registration page as well as a news feed to help you stay in touch with the gaming community.

RAMCache III
RAMCache lll software turns milliseconds into microseconds to boost game-load times. Fully compatible with the latest NVM Express storage options, its uniquely intelligent technology effectively caches an entire storage device so that favorite games and apps launch at breakneck speeds.
Nouto myymälästä
Arvioitu toimitusaika: Tuntematon
Postin pakettiautomaatti
Arvioitu toimitusaika: Tuntematon
Postipaketti
Arvioitu toimitusaika: Tuntematon
Matkahuolto Lähellä-paketti
Arvioitu toimitusaika: Tuntematon
Matkahuolto Bussipaketti
Arvioitu toimitusaika: Tuntematon
Ovelle-paketti
Arvioitu toimitusaika: Tuntematon
Kotipaketti
Arvioitu toimitusaika: Tuntematon