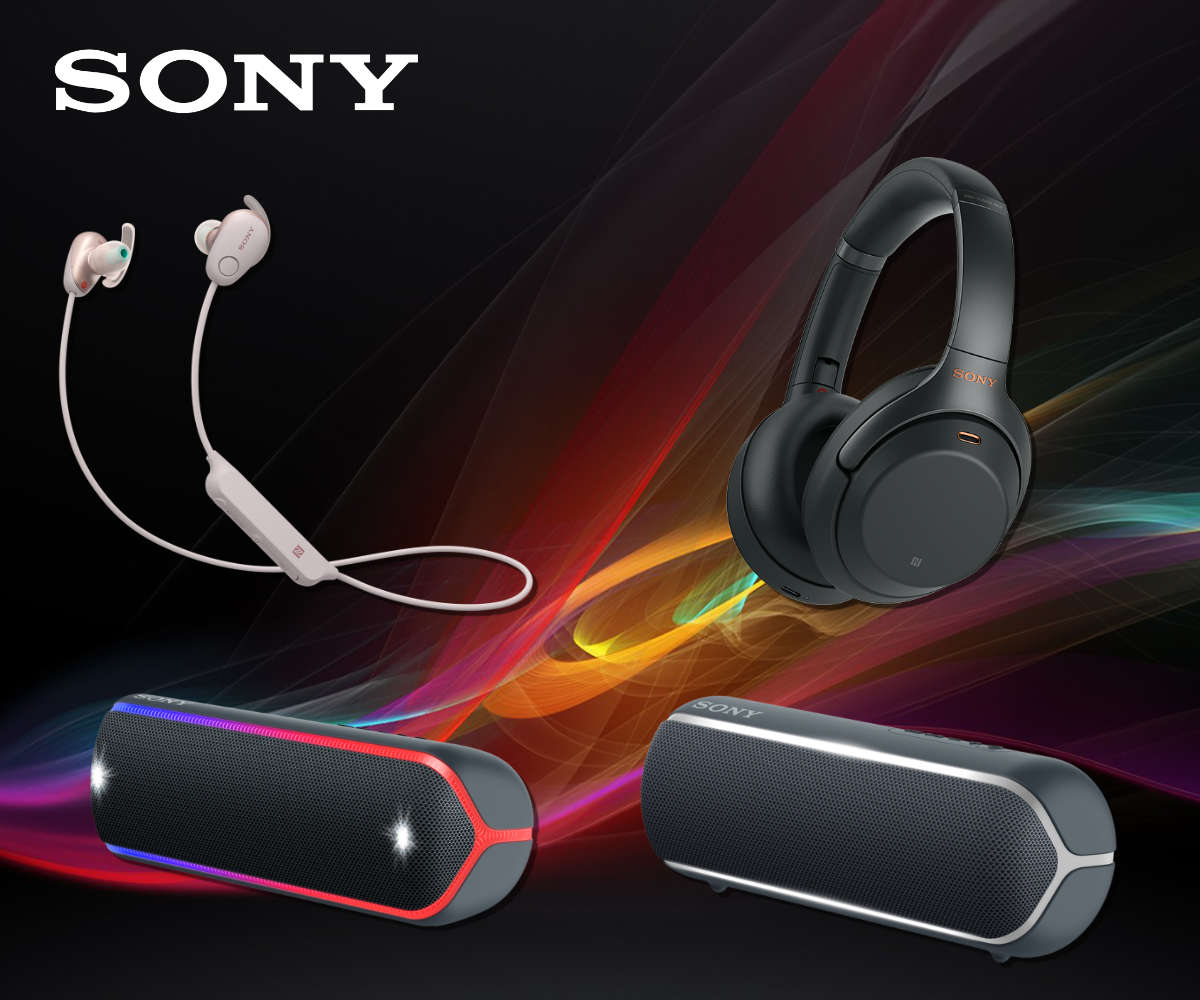 Sony Shop-in-Shop
In our Sony range you will find competitive prices and offers as well as high quality Sony Bluetooth speakers and headphones. Sony is known for its high quality, stylish design and good sound quality.


Any time, any place. The SRS-XB10 is compact and wireless so it's easy to move. With a long battery life and a water-resistant surface, you're free to pick it up and put it anywhere. Get things going with EXTRA BASS2. A passive radiator works with the monaural speaker to enhance low-end tones, giving bass a boost – despite the compact size.

Compact yet powerful, the SRS-XB12 portable wireless speaker features EXTRA BASS for deep, punchy sound and a battery life of up to 16 hours. It's also waterproof and dustproof for your peace of mind. With an IP67 rating, the speaker can survive being dropped in water – so the odd rain shower or accidental spillage won't pose any problems.

Pack the SRS-XB22 in your bag or carry it in your hand and keep on partying, anywhere, any time. EXTRA BASS with LIVE SOUND mode and party lights create the perfect portable music festival. When activated, you can simply tap your speaker in different places to make different sounds – like a scratch, snare, kick drum and cowbell. Control the volume with force, tap gently for a soft sound or give it a good hit for a loud output. Totally dustproof, washable and waterproof.
Sony SRS-XB22
Sony SRS-XB22 - Bluetooth speaker, Red
Скидка 11%
Онлайн: 7 шт
Время доставки: 28.10 - 30.10
Sony SRS-XB22 - Bluetooth speaker, Black
Скидка 11%
Онлайн: 3 шт
Время доставки: 28.10 - 30.10
Sony SRS-XB22 - Bluetooth speaker, Grey
Скидка 11%
Онлайн: 2 шт
Время доставки: 28.10 - 30.10

Enjoy big party sounds that are like live music, dance along to flashing lights, and enjoy fun features, anytime, any place. All from one easy-to-carry speaker. Just pick it up and keep partying, wherever the mood takes you next. There's no fun without party lights. The SRS-XB32 has multi-coloured flashing lights that sync to the beat and a flashing strobe. You can change the colour of the line light that goes around the speaker to suit your mood. Totally dustproof, washable and waterproof
Sony SRS-XB32 - Bluetooth speaker, Red
Онлайн: 9 шт
Время доставки: 28.10 - 30.10
Sony SRS-XB32 - Bluetooth speaker, Black
Онлайн: 6 шт
Время доставки: 28.10 - 30.10
Sony SRS-XB32 - Bluetooth speaker, Grey
Онлайн: 3 шт
Время доставки: 28.10 - 30.10

Take the festival with you, wherever you go. Create your very own festival with EXTRA BASS, an enhanced LIVE SOUND mode, party lights and fun features that give your party the ultimate three-dimensional live music experience. Enjoy the same song with Wireless Party Chain. Connect up to 100 wireless speakers with BLUETOOTH technology and the music and lights sync-up so everyone dances to the same beat. Download the Fiestable app to control lighting and add DJ effects - all with just a few taps on the app. Totally rustproof, washable, waterproof and dustproof
Sony SRS-XB41 - Bluetooth speaker, Black
Скидка 10,00 €
Онлайн: 2 шт
Время доставки: 28.10 - 30.10