Nordic Home FT-535, 230mm - desk fan, White
Nordic Home FT-535, 230mm - desk fan, White
ID: FT-534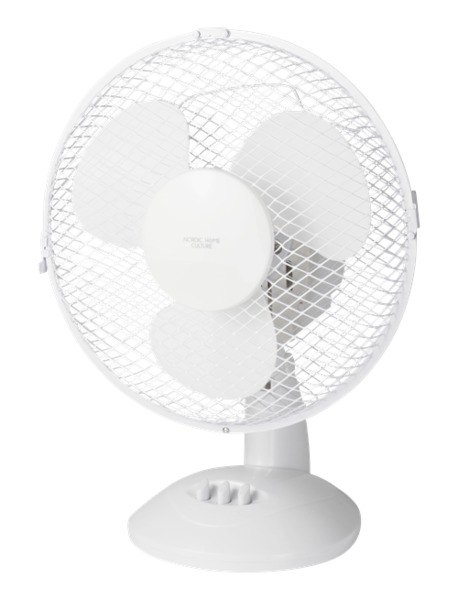 24

,90 €
20

,08 €
Show VAT 0%
Show VAT 24%
Online store:

40+ pcs
Estimated delivery: 01.07 - 04.07
Change store
Express Delivery from our Warehouse
This product will be shipped on the same day, if you place order before 12:00. Usually it takes 1-2 days for the order to be delivered with Posti or Matkahuolto to all places in Finland. For orders to Ahvenanmaa it takes 2-3 days.
Learn more
Specifications
Description
Store availability
Delivery
Price development
NORDIC HOME CULTURE pöytätuuletin, 230 mm, kaksi nopeusvaihtoehtoa, 20 W, kallistettava, valkoinen
Hiljainen, mutta tehokas pöytätuuletin. Laitteessa on 20-wattinen moottori, ja sen tuuletinpään läpimitta on 230 mm. Tuuletin sisältää kääntymistoiminnon, jonka avulla ilmavirta jakautuu tasaisesti koko huoneeseen. Ominaisuuden saa käyttöön yläosassa sijaitsevan nupin avulla.
• Kallistuva jalusta
• 20 W teho
• Kääntymistoiminto
• 280 mm ritilä, jossa verkkokuvio
• Tuuletinpään läpimitta 230 mm
• 2 nopeusvaihtoehtoa
Mitat (LxSxK): 280 x 230 x 530 mm
Paino: 1,13 kg
Pakkauksen sisältö: pöytätuuletin ja käyttöopas
Fetch from the shop
Estimated delivery time: 30.06 - 04.07
Posti Parcel Point
Estimated delivery time: 30.06 - 03.07
Matkahuolto Bus Parcel
Estimated delivery time: 01.07 - 04.07
Postal Parcel
Estimated delivery time: 01.07 - 04.07
MH Locker and Near Parcel
Estimated delivery time: 01.07 - 04.07
Parcel to the Doorstep
Estimated delivery time: 01.07 - 03.07
Home Delivered Parcel
Estimated delivery time: 01.07 - 03.07