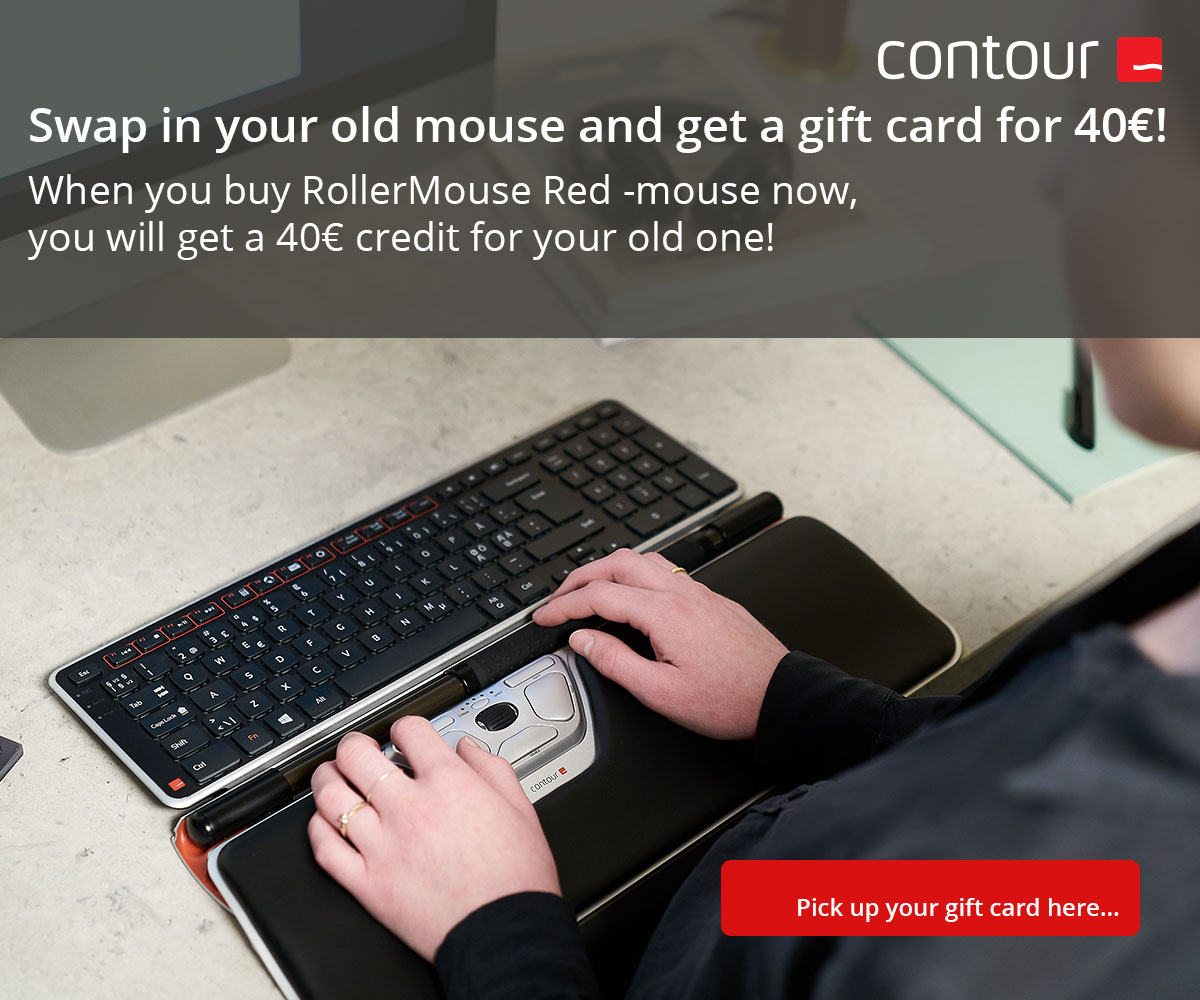 Contour Trade In & Cash Back
Buy a Contour RollerMouse Red today, send in a picture of your old centered mouse* and get a SuperGiftcard worth 40 euros.
Update your centered mouse to a mouse from the RollerMouse Red product line for superior precision and flexibility in your work. Working with your mouse has never been this easy!
Follow these steps to get your gift card:
1. Buy a RollerMouse Red during the campaign period (1.- 31.10.2019)
2. Register your purchase with a copy of your invoice (no later than 7.11.2019)
3. Register the serial number of your old centered mouse* (no later than 7.11.2019)
4. Cut the cable on your old mouse and send in the picture where the serial number and the cut cable are visible in the same picture (no later than 7.11.2019)
The buttons on the RollerMouse Red and the wide roller bar allow you to use both your right and your left hand alternately when using your mouse. This can help prevent strain injuries due to one-sided use of muscles and joints, and increase your endurance despite hours of mouse work. The possibility to easily and quickly change the cursor speed and the thick textured surface of the roller bar provide better cursor accuracy for your work.
*) Centered mice from any manufacturer are tradable for a gift card during the campaign, both Contour Design RollerMouse and other centered mice. All you have to do is take a picture of the serial number and the cut cable of your old, tradable mouse and attach it to the form on the right. Note that the serial number and the cut wire must appear in the same image. The gift card is addressed to the company that has purchased and paid for the new RollerMouse Red. Alternatively, you can exchange your gift card for a 40 euro donation to SOS Children's Villages Finland.