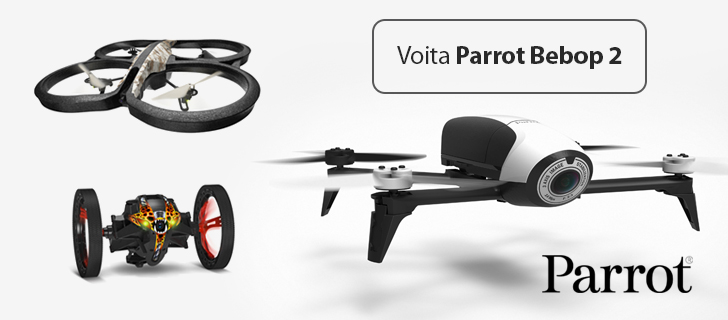 Parrot drones
With Parrot Minidrones Jumping Race/Night you can jump high and roll! Its ultra sophisticated technology enables more precise turns than any radio-controlled car. Parrot Jumping Race/Night is equipped with a wide angle camera that streams live immersive views on the piloting screen.
Parrot Bepop 2 combines aerodynamics, style and robustness in a lightweight and compact drone. It's the first leisure drone in the 500g category with a 25 minute battery life. USER-CONTROLLED 180° VISION.
Parrot AR.Drone 2.0 is a high-tech, ultra lightweight, remote-controlled quadricopter (helicopter with four rotors). Flight Recorder GPS. HD Camera 720p "Live streaming on your smartphone"
You can also get spareparts, scroll down on page.
Parrot headsets
The Parrot Zik is revealing your emotions. It merges with the body, like a technological extension of you to listen to music.
"The high-tech Zik offers both Bluetooth streaming and noise-cancellation. It's one of the best-sounding Bluetooth headphones, and comfortable, too."