Cisco Catalyst 2960X-48TS-LL - Kytkin - Hallinnoitu - 48 x 10/100/1000 + 2 x Gigabit SFP - työpöytä, räkkiin asennettava
ID: WS-C2960X-48TS-LL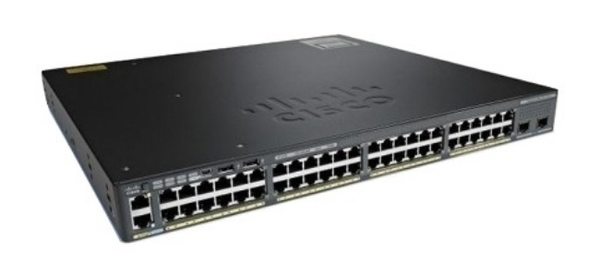 4717
90€
3804
76€
Näytä ALV 0%
Näytä ALV 24%
Arvioitu toimitus: 20.12. - 22.12.
Tilattavissa, toimitusaika-arvio 18.12.2023 jälkeen
Multitronic varastomyymälä
Multitronic | JNT Pietarsaari
Multitronic | iTronic Jyväskylä
Multitronic | iTronic Lappeenranta
Multitronic Maarianhamina
Tuotetiedot
Kuvaus
Myymäläsaatavuus
Toimitus
Hinnan muutokset
Liitettävyys
USB 2.0 -porttien määrä
2
Gigabit Ethernet -portteja
48
Console-portti
RJ-45
Peruskytkentä RJ-45 Ethernet-porttien tyyppi
Gigabit Ethernet (10/100/1000)
Basic kytkentä RJ-45 Ethernet-porttien määrä
48
SFP -moduulipaikkojen määrä
2
Paino ja mitat
Paino
4 kg
Tuotteen korkeus
45 mm
Tuotteen leveys
445 mm
Tuotteen syvyys
279 mm
Virranhallinta
Virrankulutus
44,4 W
Virtalähteiden lukumäärä
1
Vikasietoisen virtalähteen tuki (RPS)
Syöttöjännite
1 A
AC-syöttötaajuus
50 - 60 Hz
AC-syöttöjännite
100 - 240 V
Ympäristöolosuhteet
Käyttökorkeus
0 - 3000 m
Suhteellinen kosteusalue
10 - 95%
Varastointilämpötila
-25 - 70 °C
Käyttölämpötila (T-T)
-5 - 40 °C
Säilytysympäristön kosteus
10 - 95%
Säilytyskorkeus
0 - 4000 m
Protokollat
Hallintaprotokolla
SNMPv3
Verkko
Täysin kaksipuolinen
Verkkostandardit
IEEE 802.1ab, IEEE 802.1D, IEEE 802.1p, IEEE 802.1Q, IEEE 802.1s, IEEE 802.1w, IEEE 802.1x, IEEE 802.3, IEEE 802.3ab, IEEE 802.3ad, IEEE 802.3ae, IEEE 802.3af, IEEE 802.3ah, IEEE 802.3at, IEEE 802.3az, IEEE 802.3u, IEEE 802.3x, IEEE 802.3z
Linkkien yhdistäminen
Broadcast Storm Control
Nopeuden rajoitus
Auto MDI/MDI-X
VLAN:ien määrä
64
STP-Protokolla
VLAN-tuki
10G-tuki
Datasiirto
MAC-osoitetaulukko
16000 entries
Kytkentäkapasiteetti
100 Gbit/s
Jumbo Frames -tuki
Suoritusteho
104,2 Mpps
Suojaus
Tietoturva-algoritmit
802.1x RADIUS, SSH
Pääsynhallintalista
SSH/SSL-tuki
IGMP snooping
Hallintaominaisuudet
Kytkinkerros
L2/L3
Quality of Service -tuki
Verkkosivupohjainen hallinta
Kytkin tyyppi
Hallittu
Muut ominaisuudet
Virran merkkivalo
Suunnittelu
Sertifiointi
47CFR Part 15 (CFR 47)
AS/NZS CISPR22
CISPR22
EN55022
ICES003
VCCI
EN61000-3-2
EN61000-3-3
KN22
CNS13438
Telineasennus
Turvallisuus
UL 60950-1, CAN/CSA-C22.2 No. 60950-1, EN 60950-1, IEC 60950-1, AS/NZS 60950-1
LED-merkkivalot
Tuotteen väri
Musta
Power over Ethernet (PoE)
Power over Ethernet -tuki
Suorituskyky
Prosessorin taajuus
600 MHz
Sisäinen muisti
512 MB
Prosessorimalli
AppliedMicro APM8639
Keskimääräinen vikaantumisaika
476560 h
Flash-muisti
64 MB
Muistityyppi
DRAM
Melutaso
42 dB
Sisäänrakennettu prosessori
Multicast-tuki
EAN
882658610295
Takuu
3 kuukautta
Source: Icecat.biz
Cisco® Catalyst® 2960-X Series Switches are fixed-configuration, stackable Gigabit Ethernet switches that provide enterprise-class access for campus and branch applications (Figure 1). Designed for operational simplicity to lower total cost of ownership, they enable scalable, secure and energy-efficient business operations with intelligent services and a range of advanced Cisco IOS® Software features.

Product Highlights

Cisco Catalyst 2960-X switches feature:

- 24 or 48 Gigabit Ethernet ports with line-rate forwarding performance
- Gigabit Small Form-Factor Pluggable (SFP) or 10G SFP+ uplinks
- FlexStack Plus for stacking of up to 8 switches with 80 Gbps of stack throughput (optional)
- Power over Ethernet Plus (PoE+) support with up to 740W of PoE budget
- 24-port PoE fanless switch for deployment outside the wiring closet
- Reduced power consumption and advanced energy management features
- USB and Ethernet management interfaces for simplified operations
- Application visibility and capacity planning with integrated NetFlow-Lite
- LAN Base or LAN Lite Cisco IOS® software features
- Enhanced limited lifetime warranty (E-LLW) offering next-business-day hardware replacement

Cisco Catalyst 2960-XR models also offer:

- Power resiliency with optional dual field-replaceable power supplies
- IP Lite Cisco IOS® software with dynamic routing and Layer 3 features

Switch Models and Configurations

Catalyst 2960-X switches include a single fixed power supply and are available with either the Cisco IOS LAN Base or LAN Lite feature set. Catalyst 2960-XR switch models include a field-replaceable modular power supply and can accommodate a second power supply. Catalyst 2960-XR is available only with the Cisco IOS IP Lite feature set.

Catalyst 2960-X series Software Features

All Catalyst 2960-X Series Switches use a single Universal Cisco IOS Software Image for all SKUs. Depending on the switch model, the Cisco IOS image automatically configures the LAN Lite, LAN Base, or IP Lite feature set.

LAN Lite models have reduced functionality and scalability for small deployments with basic requirements. Cisco Catalyst 2960-X Family of Switches are available with the LAN Base and LAN Lite feature sets and Catalyst 2960-XR Family of switches are available IP Lite feature sets.

Note that each switch model is tied to a specific feature level; LAN Lite cannot be upgraded to LAN Base and LAN Base cannot be upgraded to IP Lite.

Cisco Catalyst 2960-XR IP-Lite High-Performance Routing

The Cisco hardware routing architecture delivers extremely high-performance IP routing in the Cisco Catalyst 2960-XR IP-Lite Switches:

- IP unicast routing protocols (Static, Routing Information Protocol Version 1 [RIPv1], RIPv2, RIPng, and EIGRP-Stub) are supported for network routing applications.
- Advanced IP unicast routing protocols (OSPF for Routed Access) are supported for load balancing and constructing scalable LANs. IPv6 routing (OSPFv3) is supported in hardware for maximum performance.
- EIGRPv3-Stub and PIMv6-Stub are supported as a part of the IPv6 routing suite.
- Equal-cost routing facilitates Layer 3 load balancing and redundancy across the stack.
- Policy-based routing (PBR) allows superior control by facilitating flow redirection regardless of the routing protocol configured (for both IPv4 and IPv6).
- Hot Standby Routing Protocol (HSRP) and Virtual Router Redundancy Protocol (VRRP) provides dynamic load balancing and failover for routed links.
- Protocol Independent Multicast (PIM) for IP multicast is supported, including PIM sparse mode (PIM-SM), PIM dense mode (PIM-DM), PIM sparse-dense mode and Source Specific Multicast (SSM).

Network Security

The Cisco Catalyst 2960-X Series Switches provide a range of security features to limit access to the network and mitigate threats, including:

- MAC-based VLAN assignment enables different users to authenticate on different VLANs. This feature enables each user to have a different data VLAN on the same interface.
- Cisco TrustSec uses SXP to simplify security and policy enforcement throughout the network. For more information about Cisco TrustSec security solutions, visit cisco.com/go/TrustSec.
- Comprehensive 802.1X Features to control access to the network, including Flexible Authentication, 802.1x Monitor Mode, and RADIUS Change of Authorization.
- IPv6 First-Hop Security enhances Layer-2 and Layer-3 network access from proliferating IPv6 devices especially BYOD devices. It protects against rogue router advertisements, address spoofing, fake DHCP replies and other risks introduced by IPv6 technology.
- Device Sensor and Device Classifier enable seamless versatile device profiles including BYOD devices. They also enable Cisco Identity Services Engine (ISE) to provision identity based security policies. This feature is available on both the 2960-X and the 2960-XR product families.
- Cisco Trust Anchor Technology enables easy distribution of a single universal image for all models of Catalyst 2960-X by verifying the authenticity of IOS images. This technology allows the switch to perform IOS integrity checks at boot-up by verifying the signature, verifying the Trusted Asset under Management and authenticating the license.
- Cisco Threat Defense features including Port Security, Dynamic ARP Inspection, and IP Source Guard.
- Private VLANs restrict traffic between hosts in a common segment by segregating traffic at Layer 2, turning a broadcast segment into a nonbroadcast multi access like segment. This feature is available in IP-Lite feature set only.
- Private VLAN Edge provides security and isolation between switch ports, which helps ensure that users cannot snoop on other users' traffic.
- Unicast Reverse Path Forwarding (uRPF) feature helps mitigate problems caused by the introduction of malformed or forged (spoofed) IP source address into a network by discarding IP packets that lack a verifiable IP source address. This feature is available in IP-Lite feature set only.
- Multidomain Authentication allows an IP phone and a PC to authenticate on the same switch port while placing them on appropriate voice and data VLAN.
- Access Control Lists (ACLs) for IPv6 and IPv4 for security and QoS ACEs.
- VLAN ACLs on all VLANs prevent unauthorized data flows from being bridged within VLANs.
- Router ACLs define security policies on routed interfaces for control-plane and data-plane traffic. IPv6 ACLs can be applied to filter IPv6 traffic.
- Port-based ACLs for Layer 2 interfaces allow security policies to be applied on individual switch ports.
- Secure Shell (SSH) Protocol, Kerberos, and Simple Network Management Protocol Version 3 (SNMPv3) provide network security by encrypting administrator traffic during Telnet and SNMP sessions. SSH Protocol, Kerberos, and the cryptographic version of SNMPv3 require a special cryptographic software image because of U.S. export restrictions.
- Switched Port Analyzer (SPAN), with bidirectional data support, allows Cisco Intrusion Detection System (IDS) to take action when an intruder is detected.
- TACACS+ and RADIUS authentication facilitates centralized control of the switch and restricts unauthorized users from altering the configuration.
- MAC Address Notification allows administrators to be notified of users added to or removed from the network.
- Multilevel security on console access prevents unauthorized users from altering the switch configuration.
- Bridge protocol data unit (BPDU) Guard shuts down Spanning Tree Port Fast-enabled interfaces when BPDUs are received to avoid accidental topology loops.
- Spanning Tree Root Guard (STRG) prevents edge devices not in the network administrator's control from becoming Spanning Tree Protocol root nodes.
- IGMP filtering provides multicast authentication by filtering out nonsubscribers and limits the number of concurrent multicast streams available per port.
- Dynamic VLAN assignment is supported through implementation of VLAN Membership Policy Server client capability to provide flexibility in assigning ports to VLANs. Dynamic VLAN facilitates the fast assignment of IP addresses.

Redundancy and Resiliency

Cisco Catalyst 2960-X Series Switches offer a number of redundancy and resiliency features to prevent outages and help ensure that the network remains available:

- Cross-stack EtherChannel provides the ability to configure Cisco EtherChannel technology across different members of the stack for high resiliency.
- Flexlink provides link redundancy with convergence time less than 100 milliseconds.
- IEEE 802.1s/w Rapid Spanning Tree Protocol (RSTP) and Multiple Spanning Tree Protocol (MSTP) provide rapid spanning-tree convergence independent of spanning-tree timers and also offer the benefit of Layer 2 load balancing and distributed processing. Stacked units behave as a single spanning-tree node.
- Per-VLAN Rapid Spanning Tree (PVRST+) allows rapid spanning-tree reconvergence on a per-VLAN spanning-tree basis, without requiring the implementation of spanning-tree instances.
- Cisco Hot Standby Router Protocol (HSRP) is supported to create redundant, fail safe routing topologies in 2960-XR IP-Lite SKUs.
- Switch-port auto-recovery (Error Disable) automatically attempts to reactivate a link that is disabled because of a network error.
- Power redundancy with an optional second power supply on 2960-XR models, or with an external RPS on 2960-X models.

Enhanced Quality of Service

The Cisco Catalyst 2960-X Series Switches offers intelligent traffic management that keeps everything flowing smoothly. Flexible mechanisms for marking, classification, and scheduling deliver superior performance for data, voice, and video traffic, all at wire speed. Primary QoS features include:

- Up to eight egress queues per port and strict priority queuing so that the highest priority packets are serviced ahead of all other traffic.
- Shaped Round Robin (SRR) scheduling and Weighted Tail Drop (WTD) congestion avoidance.
- Flow-based rate limiting and up to 256 aggregate or individual policers per port.
- 802.1p class of service (CoS) and Differentiated Services Code Point (DSCP) classification, with marking and reclassification on a per-packet basis by source and destination IP address, MAC address, or Layer 4 TCP/UDP port number.
- Cross-stack QoS to allow QoS to be configured across a stack of 2960-X series switches.
- The Cisco committed information rate (CIR) function provides bandwidth in increments as low as 8 Kbps.
- Rate limiting is provided based on source and destination IP address, source and destination MAC address, Layer 4 TCP/UDP information, or any combination of these fields, using QoS ACLs (IP ACLs or MAC ACLs), class maps, and policy maps.
Nouto myymälästä
Arvioitu toimitusaika: 19.12. - 22.12.
Postin pakettiautomaatti
Arvioitu toimitusaika: 19.12. - 21.12.
Postipaketti
Arvioitu toimitusaika: 20.12. - 22.12.
Matkahuolto Lähellä-paketti
Arvioitu toimitusaika: 20.12. - 22.12.
Matkahuolto Bussipaketti
Arvioitu toimitusaika: 20.12. - 22.12.
Ovelle-paketti
Arvioitu toimitusaika: 20.12. - 21.12.
Kotipaketti
Arvioitu toimitusaika: 20.12. - 21.12.