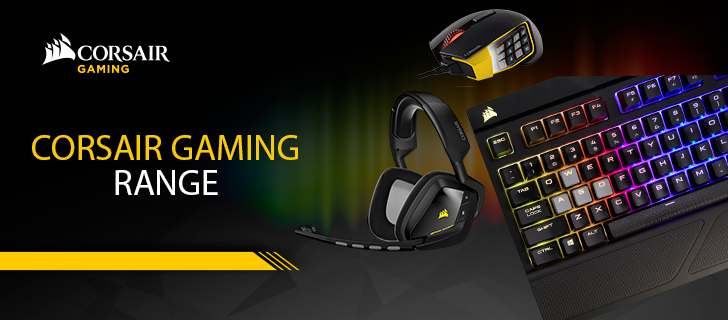 Corsair Shop-in-Shop
Founded in 1994, Corsair has grown from pioneering the high-performance DRAM market to one of the world's leading providers of enthusiast-grade PC components and peripherals. Our groundbreaking technology and innovation can be found in our high-performance memory, ultra-efficient power supplies, PC cases, PC and CPU cooling solutions, and solid-state storage devices. Under the Corsair Gaming brand, launched in 2014, we provide gaming keyboards, mice, headsets and mouse mats to eSports professionals and anybody who is passionate about competitive PC gaming.

Corsair mice are made for precision and provide adjustable DPI, customizable ergonomics and dynamic lighting. Victory is at hand.

Corsair gaming keyboards are designed from the highest quality materials and provide dynamic per-key RGB lighting. Unleash unreal performance with our mechanical, wireless and membrane keyboards.

Corsair gaming headsets are designed with audio and mic quality, comfort and durability in mind. Gain a competitive advantage in game with superior situational awareness.

Corsair gaming mouse pads are tuned to deliver outstanding control so you can deliver pixel-precise shots in game. They're built for durability and available in multiple sizes to match your playstyle or desktop.

Corsair T1 and T2 RACE Gaming Chairs feature two-layer custom color accents, rollerblade style wheels, 4D armrests, and soft microfiber cushions, giving you the style, comfort to game at your best.