Deepcool BaronKase Liquid Black -mATX case with liquid cooler, black
ID: DP-MATX-BNKSBK-LQD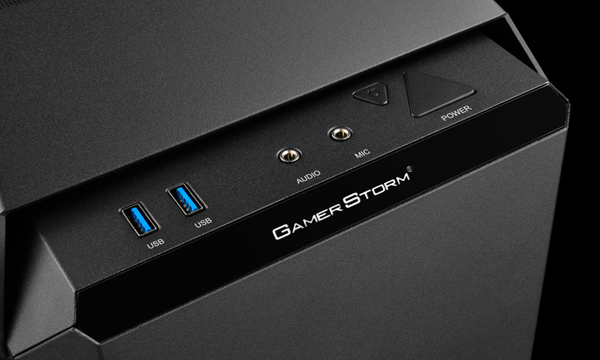 79
00€
63
71€
Show VAT 0%
Show VAT 24%
Estimated delivery: 06.12 - 08.12
Multitronic warehouse store
Multitronic | JNT Pietarsaari
Multitronic | iTronic Jyväskylä
Multitronic | iTronic Lappeenranta
Key Specifications
Choose one or multiple features to search for items that have the same specifications.
Black Week
Hundreds of offers on computers, components, home electronics, gaming products and much more. Check out the deals! .
Learn more
Benefit with campaign price
This product has a special price of 79,00 € valid between 13.11.2023 - 3.12.2023 or while the campaign quantity lasts. The lowest price for this product during the last 30 days prior the campaign start was 131,90 €.
Specifications
Description
Delivery
Price development
Ports & interfaces
Audio input
Y
Audio output
Y
USB 3.0 (3.1 Gen 1) Type-A ports quantity
2
Weight & dimensions
Weight
10 kg
Height
470 mm
Width
215 mm
Depth
423 mm
Material thickness
0.7 mm
Storage
Supported HDD sizes
2.5,3.5"
Packaging data
Package weight
11 kg
Package depth
506 mm
Package height
282 mm
Package width
497 mm
Cooling
Fan speed
500 - 1800 RPM
Front fans installed
1x 120 mm
Maximum front fans
2
Front fans diameters supported
120,140 mm
Top fans diameters supported
120,140 mm
Bottom fans diameters supported
120 mm
Maximum top fans
2
Maximum bottom fans
2
Top fans installed
1x 120 mm
Liquid cooling capability
Noise level (low speed)
17.8 dB
Noise level (high speed)
30 dB
Fan power consumption
3.84 W
Pump power consumption
2.4 W
Fan rated current
0.32 A
Other features
Maximum airflow
69.34 cfm
Bearing type
Fluid bearing
Pump connector
3-pin
Design
Type
PC
Material
SPCC, Tempered glass
Product colour
White
Illumination
Supported motherboard form factors
ATX, micro ATX, Mini-ATX, Mini-ITX
Number of 3.5" bays
2
Illumination colour
Multi
Side window
Maximum CPU cooler height
16.8 cm
Maximum graphics card length
34 cm
Number of expansion slots
5
Maximum PSU length
20 cm
Number of 2.5" bays
3
Power supply
Power supply included
Supported power supply form factors
ATX, PS2
EAN
6933412713395
Source: Icecat.biz
Intel Socket 150W
LGA1700/LGA20XX/LGA1366/LGA115X

AMD Socket 140W
AM4/AM3+/AM3/AM2+/AM2/FM2+/FM2/FM1

Supports ATX Motherboards

BARONKASE LIQUID is a new MATX size all-metal case that features a pre-installed Integrated Liquid Cooling System with a 120mm Radiator. It supports a full sized ATX mainboard, which is achieved by allowing the PSU to be mounted at the top of the case towards the front and bringing power to the PSU with an extension cable provided. Full length graphics cards can also be fitted by removing a name plate on the back panel.

The BARONKASE LIQUID case features a multi-point lighting system with manual control from the top panel. A tempered glass side panel safely mounted on soft buffered screws allows all the interior features to be seen and admired.

MATX Case supports installation of ATX Motherboard by installing the PSU at the top of the case towards the front

Integrated Liquid Cooling System with 120mm Radiator Pre-installed
Stylish new flow-rotor unit makes liquid flow visible and attractive
Tempered Glass side-panel fixed to case body with screws and soft washers to cushion the glass and fix it firmly and safely
Easier and more user friendly cable management with Velcro attachment areas provided
AC Power Extension Cable supplied to allow PSU to be installed at the top of the case when an ATX MB is fitted

Features

MATX Size Supports ATX MB
Tempered Glass Side-panel
Pre-installed Integrated Liquid Cooling System with 120mm Radiator
Combined RGB Lighting System with Manual Controller
All-metal Front Panel
Application For
Intel Socket 150WLGA1700
/LGA20XX/LGA1366/LGA115X
High End Desktop i7
Core i7/i5/i3
Pentium G
Celeron G
AMD Socket 140WAM5
/AM4/AM3+/AM3/AM2+/AM2/FM2+/FM2/FM1
Ryzen
APU A12/A10/A8/A6/A4
FX 8/6/4-Core
Phenom II X6/X4/X3/X2
Athlon II X4/X3/X2
Athlon X4
Technical Spec
Materials: SPCC(thickness: side panel:0.7mm, Glass: 4mm, Front panel:1.2mm)
Product Dimension (LxWxH): 423X215X470mm
Weight Net Weight:10 kg; Gross Weight:11 kg
I/O Panel: 2×USB3.0 /Audio(HD)×1/Mic×1/Manual Controller for RGB
Motherboards: ATX/MATX/MINI-ITX
Drive Bays: 5.25?Drive Bays×0; 3.5?/2.5?Drive Bays×2; 2.5?Drive Bays×3
Expansion Slots: 5
Cooling Fans: Pre-installed: Rear: 1×120mm fan; Top: 1×120mm RGB fan Optional: Front: 2×120 or 1×140; Top: 2×120/ 2×140mm Bottom: 2×120mm in case of PSU installed at top
CPU Cooler Compatibility: 168mm height limit /Liquid Cooler: 120mm radiator liquid cooling system pre-installed at top; Optional: 120mm radiator at rear; 120/240/140/280mm radiator at top
Power Supply Support: ATX PS2 (maximum length: 200mm at bottom, 160mm at top)
Graphic Card Clearance: Maximum 340mm length
Carton Dimension: 497X282X506mm
Water Block Dimensions: 92.5X93X85mm(L×W×H)
Radiator Dimensions: 154X120X27mm(L×W×H)(aluminum material)
Fan Dimensions: 120X120X25mm RGB Fan
Fan Speed: 500±150-1800±10%RPM (4Pin)
Fan Air Flow: 69.34 CFM (MAX)
Fan Noise Level: 17.8~30dB(A)
Fan Bearing Type: Hydro Bearing
Fan Rated Voltage: 12VDC
Fan Rated Current: 0.32A
Fan Power Consumption: 3.84W
Pump Connector: 3Pin
Pump Operating Voltage: 6~13.8VDC
Pump Rated Voltage: 12VDC
Pump Speed: 2300±10%RPM
Pump Current: 0.2A(MAX)
Pump Power Consumption: 2.4W
Fetch from the shop
Estimated delivery time: Today
Posti Parcel Point
Estimated delivery time: 05.12 - 07.12
Postal Parcel
Estimated delivery time: 06.12 - 08.12
MH Locker and Near Parcel
Estimated delivery time: 06.12 - 08.12
Matkahuolto Bus Parcel
Estimated delivery time: 06.12 - 08.12
Parcel to the Doorstep
Estimated delivery time: 06.12 - 07.12
Home Delivered Parcel
Estimated delivery time: 06.12 - 07.12