TP-Link Archer AX50, AX3000, Dual-Band - Wi-Fi 6 router
TP-Link Archer AX50, AX3000, Dual-Band - Wi-Fi 6 router
ID: ARCHER AX50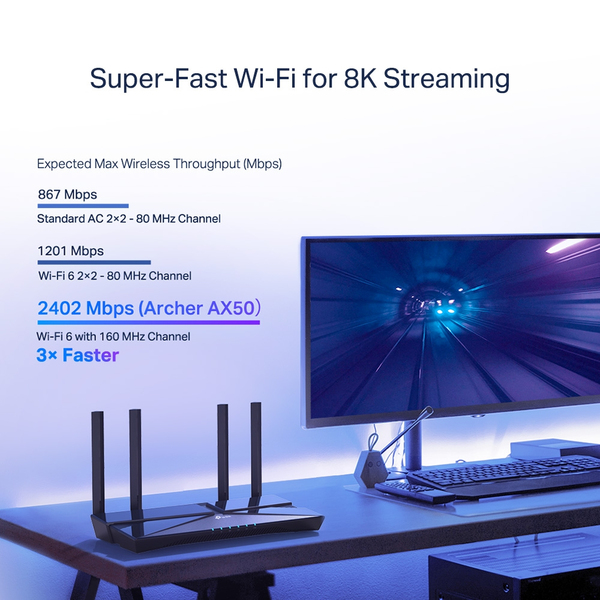 163

,90 €
132

,18 €
Show VAT 0%
Show VAT 24%
Online store:

2 pcs
Estimated delivery: 30.11 - 02.12
Change store
Key Specifications
Choose one or multiple features to search for items that have the same specifications.
Specifications
Description
Delivery
Price development
System requirements
Browser supported
Internet Explorer 11, Firefox 12.0, Chrome 20.0, Safari 4.0
Mac compatibility
Windows operating systems supported
Windows 10, Windows 2000, Windows 7, Windows 8, Windows 8.1, Windows 98SE, Windows NT, Windows XP
Mac operating systems supported
Linux operating systems supported
Ports & interfaces
Ethernet LAN (RJ-45) ports
4
DC-in jack
Memory card slot(s)
USB 3.0 (3.1 Gen 1) Type-A ports quantity
1
USB port
Weight & dimensions
Height
38.6 mm
Width
260.2 mm
Depth
135 mm
Energy management
Output voltage
12 V
Output current
2 A
Power source type
AC
Operational conditions
Operating relative humidity (H-H)
10 - 90%
Storage temperature (T-T)
-40 - 70 °C
Operating temperature (T-T)
0 - 40 °C
Storage relative humidity (H-H)
5 - 90%
Protocols
Supported network protocols
IPv4, IPv6
DHCP client
DHCP server
Universal Plug and Play (UPnP)
Networking
Ethernet LAN
Receiver sensitivity
5 GHz:<br /> 11a 6Mbps:-97dBm, 11a 54Mbps:-79dBm<br /> 11ac VHT20_MCS0:-96dBm, 11ac VHT20_MCS11:-66dBm<br /> 11ac VHT40_MCS0:-94dBm, 11ac VHT40_MCS11:-63dBm<br /> 11ac VHT80_MCS0:-91dBm, 11ac VHT80_MCS11:-60dBm<br /> 11ac VHT160_MCS0:-88dBm, 11ac VHT160_MCS11:-55dBm<br /> 11ax HE20_MCS0:-95dBm, 11ax HE20_MCS11:-63dBm<br /> 11ax HE40_MCS0:-92dBm, 11ax HE40_MCS11:-60dBm<br /> 11ax HE80_MCS0:-89dBm, 11ax HE80_MCS11:-58dBm<br /> 11ax HE160_MCS0:-85dBm, 11ax HE160_MCS11:-55dBm<br /> 2.4 GHz:<br /> 11g 6Mbps:-97dBm, 11a 54Mbps:-79dBm<br /> 11n HT20_MCS0:-97dBm, 11n HT20_MCS7:-78dBm<br /> 11n HT40_MCS0:-95dBm, 11n HT40_MCS7:-75dBm<br /> 11ac VHT20_MCS0:-96dBm, 11ac VHT20_MCS11:-67dBm<br /> 11ac VHT40_MCS0:-94dBm, 11ac VHT40_MCS11:-64dBm<br /> 11ax HE20_MCS0:-96dBm, 11ax HE20_MCS11:-64dBm<br /> 11ax HE40_MCS0:-93dBm, 11ax HE40_MCS11:-61dBm
Networking standards
IEEE 802.11a, IEEE 802.11ac, IEEE 802.11ax, IEEE 802.11b, IEEE 802.11g, IEEE 802.11n
Ethernet LAN data rates
10,100,1000 Mbit/s
Port forwarding
Dynamic DNS (DDNS)
Ethernet LAN interface type
Gigabit Ethernet
Packaging data
Number of products included
1 pc(s)
Security
Firewall security
DoS, SPI
DMZ support
Firewall
Guest access
Wireless LAN features
Wi-Fi standards
802.11a, 802.11b, 802.11g, Wi-Fi 4 (802.11n), Wi-Fi 5 (802.11ac), Wi-Fi 6 (802.11ax)
Wi-Fi band
Dual-band (2.4 GHz / 5 GHz)
WLAN data transfer rate (max)
3000 Mbit/s
WLAN data transfer rate (first band)
574 Mbit/s
WLAN data transfer rate (second band)
2402 Mbit/s
Top Wi-Fi standard
Wi-Fi 6 (802.11ax)
Management features
Quality of Service (QoS) support
Reset button
WPS push button
Packaging content
AC adapter included
Cables included
AC
Manual
Quick installation guide
Antenna
Antennas quantity
4
Design
LED indicators
LAN, Power, Status, WAN
Product colour
Black
On/off switch
Product type
Tabletop router
Mobile networking
3G
4G
Features
Intel inside
WAN connection
WAN connection type
RJ-45
DSL WAN
Ethernet WAN
SIM card slot
3G/4G USB modem compatibility
EAN
6935364089252
Warranty
1 year
Source: Icecat.biz
The Next Generation of WiFi is Upon Us
Wi-Fi 6 (802.11ax) could turn out to be the most significant advancement in WiFi development, delivering a huge boost in speed and total capacity. Mainstream adoption of Wi-Fi 6 is inching ever closer with more and more AX clients available. It's the right time to upgrade your router to the newest generation of WiFi!

Blazingly Fast Gig+ Speed Can't Wait
There is no reason to hold off on buying a Wi-Fi 6 router when you can already take full advantage of the speed it delivers. Featuring a 160 MHz bandwidth and 1024-QAM, Archer AX50 delivers true gigabit speeds of up to 3 Gbps. Enjoy faster streaming and gaming like never before. Powered by Intel, this full-featured Wi-Fi 6 AX3000 router pairs perfectly with new Intel® Wi-Fi 6 Gig+ PCs and laptops, allowing numerous bandwidth-intensive tasks to run smoothly at the same time.

Reliable Connections for More Devices
In answer to ever-growing demands on home WiFi, Archer AX50 future-proofs your home networks by providing higher capacity to connect more devices. Advanced technologies like OFDMA raises the connection capacity in high-density scenarios compared to standard 802.11ac routers. Keep pace with the latest technology and future developments.

Lower Latency, Greater Experience.
Taking a giant leap forward in wireless connectivity, Wi-Fi 6 brings stable and responsive WiFi connections to tomorrow's hyperconnected homes. Enjoy more responsive gaming and seamless video conferencing even when multiple compatible device are connected and transmitting data at the same time.

More Secure, and More Trusted WiFi
Create a customized WiFi network with enhanced security with a free lifetime subscription of TP-Link HomeCare™. Whether protecting your sensitive data or limiting the access of kids and guests, HomeCare™ gives you the tools you need to fully manage your network.


Robust
Parental Controls
Block inappropriate content and restrict time spent online

Built-In Antivirus
Protect all connected devices in your home from online threats

Quality of Service
Prioritize devices and applications for faster performance when needed

Expanded Coverage Throughout Your Home
Four high-gain external antennas and Beamforming technology combine to extend strong, reliable WiFi throughout your home.

Reduce Devices Power Consumption
While Wi-Fi 6 clients are starting to hit the market in meaningful numbers, the newest AX technology—Target Wake Time—helps your devices to communicate more while consuming less power. Mobile and IoT devices that support TWT negotiate when and how often they will wake up to send or receive data, increasing sleep time and substantially prolonging battery life.

Easy Management with Tether
Set up your router in minutes via its intuitive web interface or the powerful Tether app. Tether also lets you manage its network settings from any Android or iOS device.

Ready for Today and Tomorrow's Smart Home
With the growing number of devices in today's home, everyone deserves a smarter and easier way to bring all your products together. Utilize Amazon Alexa to control everything via voice commands to enjoy truly intelligent life.

Wi-Fi 6 technology achieves up to 3x faster speeds, higher capacity and lower latency compared to the previous generation of Wi-Fi 5 while Intel's dual-core CPU ensures your experience is smooth and buffer-free

Reach incredible speeds up to 3 Gbps (2402 Mbps on 5 GHz band and 574 Mbps on 2.4 GHz band) for faster streaming and gaming like you have never experienced before

Simultaneously communicate more data to more devices using revolutionary OFDMA and MU-MIMO technology, letting you connect 40+ devices.

Experience ultra-smooth entertainment whether you are streaming 4K videos, gaming online, or even video chatting with up to 75% reduced lag

Achieve the strongest, most reliable WiFi coverage up to 2,000 sq. ft. with Archer AX50 as it focuses signal strength to your devices using Beamforming technology and 4 antenna

Protect your family with a lifetime free subscription of TP-Link's HomeCare featuring next-level antivirus, robust parental controls and QoS

Target Wake Time technology reduces your devices' power consumption to extend battery life.

Set up your router in minutes with the powerful TP-Link Tether App

Archer AX50 supports all previous 802.11 standards and all WiFi devices.
Fetch from the shop
Estimated delivery time: Today
Posti Parcel Point
Estimated delivery time: 29.11 - 01.12
Postal Parcel
Estimated delivery time: 30.11 - 02.12
MH Locker and Near Parcel
Estimated delivery time: 30.11 - 02.12
Matkahuolto Bus Parcel
Estimated delivery time: 30.11 - 02.12
Parcel to the Doorstep
Estimated delivery time: 30.11 - 01.12
Home Delivered Parcel
Estimated delivery time: 30.11 - 01.12