Motorola Edge 20 5G, 8/128GB Android - mobile phone, Frosted Grey + Norton 360 Deluxe 12 months / 3 devices
Motorola Edge 20 5G, 8/128GB Android - mobile phone, Frosted Grey + Norton 360 Deluxe 12 months / 3 devices
ID: PAR00000SE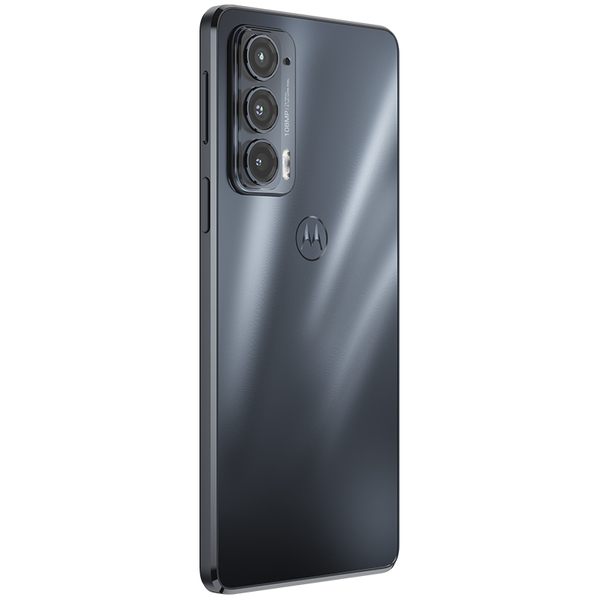 Product unavailable
This product is end of life or currently not available.
Key Specifications
Choose one or multiple features to search for items that have the same specifications.
Specifications
Description
Store availability
Delivery
Price development
Processor
Processor model
778G
Processor family
Qualcomm Snapdragon
Display
Display diagonal
17 cm (6.7")
Display resolution
2400 x 1080 pixels
Maximum refresh rate
144 Hz
Touchscreen type
Capacitive
Display type
OLED
Native aspect ratio
20:9
Fingerprint resistant
Screen shape
Flat
Display number of colours
1.07 billion colours
Display glass type
Gorilla Glass
Ports & interfaces
USB connector type
USB Type-C
USB port
Weight & dimensions
Weight
163 g
Height
163 mm
Width
76 mm
Depth
6.99 mm
Networking
Wi-Fi standards
802.11a, 802.11b, 802.11g, Wi-Fi 4 (802.11n), Wi-Fi 5 (802.11ac), Wi-Fi 6 (802.11ax)
Bluetooth version
5.2
Bluetooth
Wi-Fi
SIM card type
NanoSIM
Near Field Communication (NFC)
4G standard
LTE
3G standards
WCDMA
SIM card capability
Dual SIM
Storage
Compatible memory cards
Not supported
RAM capacity
8 GB
Internal storage capacity
128 GB
Messaging
Short Message Service (SMS)
Multimedia Messaging Service (MMS)
E-mail
Navigation
Electronic compass
GPS (satellite)
GLONASS
Position location
Galileo
Certificates
Head SAR (EU)
1 W/kg
Body SAR (EU)
1.5 W/kg
Operating system/software
Platform
Android
Operating system installed
Android
Virtual assistant
Google Assistant
Camera
Digital zoom
10x
Optical zoom
3x
Image stabilizer
Video capture resolution (max)
3840 x 2160 pixels
Auto focus
Resolution at capture speed
1280x720@240fps, 1920x1080@120fps, 1920x1080@30fps, 1920x1080@60fps, 3840x2160@30fps
Face detection
Maximum frame rate
920 fps
Image stabilizer type
Optical Image Stabilization (OIS)
Video recording modes
720p, 1080p, 2160p
Video stabilizer
Rear camera resolution
3840 x 2160 pixels
Rear camera resolution (numeric)
108 MP
Front camera resolution (numeric)
32 MP
Front camera resolution
3840 x 2160 pixels
Rear camera type
Triple camera
Second rear camera resolution (numeric)
8 MP
Rear camera aperture number
1.9
Second rear camera aperture number
2.4
Front camera aperture number
2.25
Front camera type
Single camera
Packaging content
AC adapter included
Cables included
USB Type-A to USB Type-C
Quick start guide
Headset included
Protective case
Battery
Battery capacity
4000 mAh
Other features
Touchscreen
Design
Form factor
Bar
Product colour
Grey
International Protection (IP) code
IP52
Colour name
Frosted Grey
Sensors
Proximity sensor
Ambient light sensor
Accelerometer
Gyroscope
Magnetic sensor
Performance
Graphics adapter
Adreno 642
Vibrating alert
Fingerprint reader
Quick charge
Voice commands
Video call
Face recognition
Multimedia
Speakers
Mono
EAN
840023217722
Source: Icecat.biz
Ole valmiina jokaiseen hetkeen, oli se sitten todella kaukana tai todella lähellä. Taltioi terävämpiä kuvia hämärässä edistyn eellä 108 megapikselin Ultra Pixel Technology -kamerajärjestelmällä. Kuvaa korkealaatuista videokuvaa 4K-tarkkuudella. Tarkenna uskomattomilta etäisyyksiltä 30x Super Zoomin avulla. Saavuta 4x enemmän maisemasta ultralaajakulmakameralla. Ja pääse jopa 5x kertaa lähemmäs kohdettasi Macro Vision -kameran avulla.
Näe yli miljardi värisävyä 6,7" MaxVision HDR10+ näytöltä. OLED-näyttö tarjoaa kristallin kirkkaat kuvat ja tummemmat mustat sävyt. Ja uskomattoman nopea 144 Hz virkistystaajuus takaa supersulavan käyttökokemuksen ilman viivettä. Anna suosikkisarjoillesi ja -elokuvillesi suuri, kaunis näyttö, minkä ne ansaitsevat.
Uniikin alumiinirungon ansiosta Motorola Edge 20 on rakennettu todella kevyeksi, mutta kestäväksi. Sujauta puhelin taskuusi tai laukkuusi, vain 7 mm paksuudellaan Edge 20 on yksi maailman ohuimmista 5G-puhelimista. Puhelimen matta viimeistely vaihtaa väriä valon osuessa siihen.
Tunne responsiivinen suorituskyky suosikkipeleissäsi, kamerassa, videoissa ja uusissa kokemuksissa kuten Ready For. Äärimmäisen nopea Qualcomm® Snapdragon™ 778G -prosessori on suunniteltu yksinomaisesti 5G-puhelimille ja niille uskomattomille asioille mitä voit tehdä Edge 20:llä.
Moto Edge 20:ssä on reilusti tilaa valokuvillesi, elokuvillesi, peleillesi ja musiikillesi. Ja 8 GB muistilla sovelluksesi ja yhteytesi pysyvät nopeina milloin tahansa käytät puhelinta.
Käytä puhelintasi yli vuorokausi yhdellä latauksella. 4000 mAh akku on suunniteltu Motorola Edge 20 ohutta designia varten ja pitää sisällään reilusti virtaa. Tarvitseko nopeasti lisäboostin? TurboPowerTM 30W -pikalatauksella saat 8 tuntia lisää käyttöaikaa vain kymmenessä minuutissa!