Samsung 24" S24R350FZU Full HD, IPS - monitor
Samsung 24" S24R350FZU Full HD, IPS - monitor
ID: LS24R350FZUXEN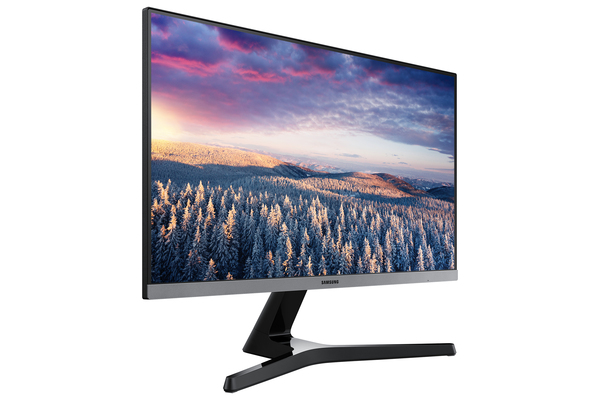 99

,00 €
79

,84 €
Show VAT 0%
Show VAT 24%
Save 28%
norm. 139,00 €
Online store:

40+ pcs
Estimated delivery: 01.07 - 04.07
Change store
Key Specifications
Choose one or multiple features to search for items that have the same specifications.
Benefit with campaign price
This product has a special price of 99,00 € valid between 15.6.2022 - 10.7.2022. The lowest price for this product during the last 30 days prior the campaign start was 139,00 €.
Specifications
Description
Delivery
Price development
Display
Contrast ratio (typical)
1000:1
Viewing angle, horizontal
178°
Viewing angle, vertical
178°
Aspect ratio
16:9
Viewable size, horizontal
52.7 cm
Viewable size, vertical
29.6 cm
Display diagonal
60.5 cm (23.8")
Response time
5 ms
Display resolution
1920 x 1080 pixels
Supported graphics resolutions
1920 x 1080 (HD 1080)
Maximum refresh rate
75 Hz
Display technology
LED
Native aspect ratio
16:9
HD type
Full HD
Colour gamut
72%
Panel type
IPS
Display surface
Matt
Screen shape
Flat
Display number of colours
16.78 million colours
Dynamic contrast ratio marketing name
Mega Contrast
Ports & interfaces
DVI port
VGA (D-Sub) ports quantity
1
AC (power) in
HDMI ports quantity
1
HDMI version
1.4
HDMI
Headphone out
Built-in USB hub
Weight & dimensions
Width (with stand)
539.7 mm
Height (with stand)
425.4 mm
Depth (with stand)
236.4 mm
Weight (without stand)
2.8 kg
Height (without stand)
32.1 cm
Width (without stand)
54 cm
Depth (without stand)
4.99 cm
Weight (with stand)
3.4 kg
Energy management
Power consumption (typical)
21 W
Power consumption (off)
0.3 W
Power consumption (standby)
0.3 W
Annual energy consumption
32 kWh
Operational conditions
Operating relative humidity (H-H)
10 - 80%
Operating temperature (T-T)
10 - 40 °C
Packaging data
Package weight
4.8 kg
Cables included
AC, HDMI
Package depth
150 mm
Package height
390 mm
Package width
610 mm
Quick start guide
Package type
Box
Stand included
Ergonomics
LED indicators
Height adjustment
Tilt angle range
-2 - 22°
Panel mounting interface
75 x 75 mm
VESA mounting
Other features
AC adapter included
On/off switch
Power cable length
1.5 m
Power consumption (DPMS)
0.3 W
Design
Certification
Windows 10
Product colour
Silver
Market positioning
Business
Feet colour
Black
Performance
AMD FreeSync
Multimedia
Built-in speaker(s)
EAN
8806092176966
Source: Icecat.biz
Kehyksetön näyttö
Supernopea viihdekokemus AMD FreeSync™ -toiminnolla
Virkistystaajuus 75hz
Laajenna näkymääsi
Yksinkertainen ja hienostunut muotoilu. Kolmelta puolelta kehyksetön näyttö ja kapea Y-muotoinen jalusta takaavat minimalistisen ulkonäön. Kahden näytön kokoonpanoissa näyttöjen välillä on hädin tuskin rakoa.
Toimintaa ilman viiveitä
Supernopea viihdekokemus. AMD Radeon FreeSync™ synkronoi näytön ja näytönohjaimen virkistystaajuuden. Se vähentää kuvan pätkimistä ja häiriöitä. Voit katsella elokuvia ja pelata pelejä ilman häiriötekijöitä. Jopa nopeissa toimintakohtauksissa kuva liikkuu aina sulavasti.
Game Mode
Game Mode optimoi näytön kontrastin välittömästi ja antaa sinulle kilpailuetuja pelatessasi. Pelitila lisää kontrastia valikoivasti tietyissä kohtauksissa, jolloin pimeissä kohdissa tulee esiin enemmän yksityiskohtia ja huomaat viholliset nopeammin.
Liikettä virran mukana
Nyt kaikki toiminta näyttää erinomaiselta. 75 Hz virkistystaajuus takaa nykimättömän kuvan. Voit nauttia viihteestä ilman nykimistä tai haamukuvia, katsoitpa sitten suosikkidraamasarjaasi tai pelasitpa peliä.
Keskittyminen mukavuuteen
Suojaa silmiäsi. Kehittynyt silmätekniikka vähentää silmien väsymistä ja takaa katselumukavuuden myös näyttöä pitkään katsottaessa. Flicker Free -teknologia vähentää väsyttävää ja häiritsevää näytön välkkymistä, ja Eye Saver Mode minimoi sinisen valon. Silmät jaksavat pidempään.
Todellista monipuolisuutta
Luo yhteys moniin eri laitteisiin. HDMI- ja D-sub-porttien ansiosta useampi eri laite voidaan yhdistää suoraan ja joustavasti näyttöön. Ylimääräisten mahdollisuuksien ansiosta tietokoneympäristöstä saa aiempaakin kätevämmän.
Fetch from the shop
Estimated delivery time: Today
Posti Parcel Point
Estimated delivery time: 30.06 - 03.07
Postal Parcel
Estimated delivery time: 01.07 - 04.07
MH Locker and Near Parcel
Estimated delivery time: 01.07 - 04.07
Matkahuolto Bus Parcel
Estimated delivery time: 01.07 - 04.07
Parcel to the Doorstep
Estimated delivery time: 01.07 - 03.07
Home Delivered Parcel
Estimated delivery time: 01.07 - 03.07