Gardena HighCut 360/18V P4A - cordless lopper with telescopic handle incl. battery
ID: 14776-20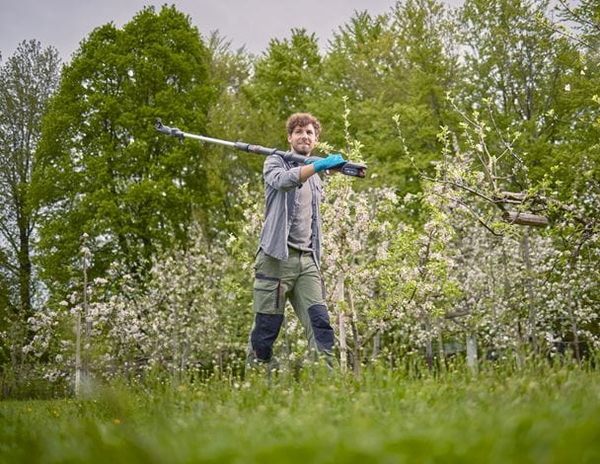 229
00€
184
68€
Show VAT 0%
Show VAT 24%
Estimated delivery: 08.06 - 12.06
Multitronic warehouse store
Multitronic | JNT Pietarsaari
Multitronic | iTronic Jyväskylä
Multitronic | iTronic Lappeenranta
Benefit with campaign price
This product has a special price of 229,00 € valid between 30.5.2023 - 11.6.2023 or while the campaign quantity lasts. The lowest price for this product during the last 30 days prior the campaign start was 269,00 €.
Specifications
Description
Store availability
Delivery
Price development
Funktioner
Enkel klippning på höga höjder
Med det teleskopiska skaftet utdraget når Batteridriven Teleskopisk Stångsax HighCut 360/18V en längd på 3,6 meter för att arbeta bekvämt från marken på höjder upp till 5 meter. Tack vare teleskopfunktionen och det avtagbara skaftet kan sågen användas flexibelt. Batteristödet POWER FOR ALL gör det enkelt att klippa igenom grenar.

Original GARDENA precisionsblad
Bladen av härdat stål är tillverkade i Tyskland, har en non-stick-beläggning och är precisionsslipade. De garanterar ett rent och jämnt snitt i färskt trä upp till 28 mm i diameter.

Tiltbart klipphuvud
Det tiltbara, smala klipphuvudet ger en god överblick över snittet och gör det enkelt att klippa enskilda grenar i en 60-graders vinkel.

Praktisk krok på skaftet
Kroken i toppen av skaftet gör det enkelt att ta bort avklippta grenar som fastnar i trädet.

LED-indikator
Den väl synliga LED-indikatorn, som är integrerad i det ergonomiska handtaget, visar batteriets aktuella laddningsstatus under arbetet. Ett fulladdat batteri möjliggör upp till 400 snitt.

18V POWER FOR ALL - mer än bara ett batteri
POWER FOR ALL ALLIANCE är en av de ledande tillverkarnas största gränsöverskridande batteriallianser, vars batterier kan användas i många enheter. Detta gör att du kan spara pengar samtidigt som du är flexibel!

Den 3-åriga garantin garanterar hög kvalitet
*Registrera din produkt på gardena.com/registration inom 3 månader efter ditt köp. Garantivillkor hittar du på gardena.com/warranty.
Fetch from the shop
Estimated delivery time: 07.06 - 12.06
Posti Parcel Point
Estimated delivery time: 07.06 - 11.06
Postal Parcel
Estimated delivery time: 08.06 - 12.06
MH Locker and Near Parcel
Estimated delivery time: 08.06 - 12.06
Matkahuolto Bus Parcel
Estimated delivery time: 08.06 - 12.06
Parcel to the Doorstep
Estimated delivery time: 08.06 - 11.06
Home Delivered Parcel
Estimated delivery time: 08.06 - 11.06