Home Electronics
TV
TV Accessories
Remote Controllers
URC 1280 -yleiskaukosäädin Contour 8
URC 1280 -yleiskaukosäädin Contour 8
ID: 111280-000-0001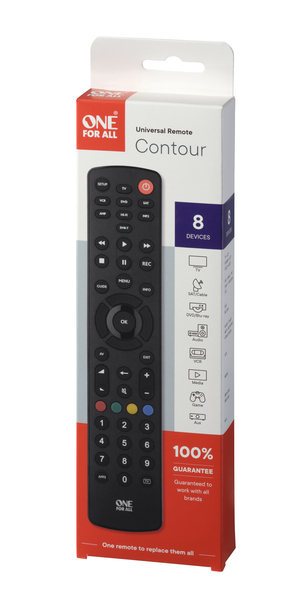 Product is end of life or currently not available. Please contact our customer service for more information regarding this product.
Currently not available
Estimated delivery: Unknown
Change store
Specifications
Description
Store availability
Delivery
Price development
Technical details
Pallet volume
1.53 dm³
Display
Built-in display
Weight & dimensions
Weight
84 g
Height
20 mm
Width
44 mm
Depth
223 mm
Packaging data
Package weight
140 g
Package depth
306 mm
Package height
28 mm
Package width
93 mm
Packaging content
AC adapter included
Manual
Batteries included
Packaging content
Remote Control, Manual
Battery
Battery type
AAA
Number of batteries supported
2
Rechargeable
Built-in battery
Other features
Case or master carton weight
1560 kg
Package tare weight
30 g
Design
Interface
IR Wireless
Input type
Press buttons
Product colour
Black
Compatible products
TV, Set Top Box, DVD/Blu-ray player, Media Streamers, (IR) Game consoles, Soundbars and other Audio devices
Brand compatibility
Universal
Backlight buttons
Remote control proper use
TV, TV set-top box, DVD/Blu-ray, Soundbar speaker
Performance
Number of devices supported
8
Teletext function
Voice control
Logistics data
Products per pallet
16 pc(s)
Number of layers per pallet
4 pc(s)
Master carton height
370 mm
Master carton width
460 mm
Master carton weight
10 kg
Master carton length
500 mm
Quantity per master carton
48 pc(s)
Shipping carton width
22.2 cm
Shipping carton length
33 cm
Shipping carton height
11 cm
Shipping carton weight
960 g
Master carton GTIN (EAN/UPC)
8716184065040
Master carton net weight
6.72 kg
EAN
8716184065040
Source: Icecat.biz
The One For All Contour 8 is perfect to control your 8 devices: TV, Set Top Box (Sat/Cable), DVD/Blu-ray player, Media Streamers, (IR) Game consoles, Soundbars, Amplifiers, Stereos and other Audio devices. This handy Universal remote gives you easy control of all your devices as on your original remotes! Follow 3 simple steps to setup your remote in literally less than a minute. An easy to understand quick setup guide is included in the packaging. Use the learning feature to fully customise this remote with ease, by copying functions directly from your original remote.