Lenovo 11.6" Chromebook 300e, 32GB, Chrome OS - notebook, Black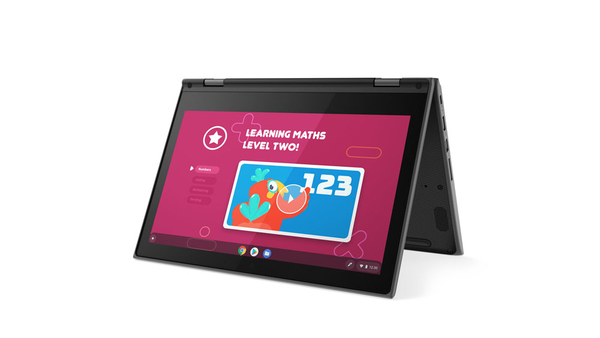 Product is end of life or currently not available. Please contact our customer service for more information regarding this product.
Specifications
Description
Availability / Delivery
Price development
Processor
Processor model
MTK 8173C
Processor manufacturer
MediaTek
Processor family
MediaTek
Processor cores
4
Processor frequency
2.10 GHz
Memory
Internal memory type
LPDDR3 SDRAM
Maximum internal memory
4 GB
Memory clock speed
1866 MHz
Memory form factor
On-board
Internal memory
4 GB
Display
Aspect ratio
11:6
Display diagonal
11.6
Display brightness
250 cd/m²
Display resolution
1366 x 768 pixels
Full HD
Touchscreen
LED backlight
Touch technology
Multi-touch
HD type
HD
Panel type
IPS
Audio
Built-in microphone
Speaker power
2 W
Ports & interfaces
DVI port
HDMI ports quantity
1
Combo headphone/mic port
USB 3.0 (3.1 Gen 1) Type-A ports quantity
1
USB 3.2 Gen 1 (3.1 Gen 1) Type-C ports quantity
1
Weight & dimensions
Weight
1.31 kg
Height
20.9 mm
Width
290 mm
Depth
204 mm
Energy management
AC adapter power
45 W
Keyboard
Windows keys
Numeric keypad
Spill resistant keyboard
Keyboard backlit
Networking
Wi-Fi standards
Wi-Fi 5 (802.11ac)
Bluetooth version
4.1
Ethernet LAN
Antenna type
2x2
Bluetooth
Wi-Fi
WWAN
Top Wi-Fi standard
Wi-Fi 5 (802.11ac)
Storage
Optical drive type
N
Total storage capacity
32 GB
Number of HDDs installed
1
Card reader integrated
Flash memory
32 GB
Storage media
eMMC
Security
Cable lock slot
Trusted Platform Module (TPM)
Fingerprint reader
Certificates
RoHS compliance
Operating system/software
Operating system installed
Chrome OS
Camera
Front camera
Front camera signal format
720p
Packaging content
Manual
Power cord included
Battery
Battery technology
Lithium-Ion (Li-Ion)
Battery capacity (Watt hours)
42 Wh
Other features
AC adapter included
3D
Design
Form factor
Convertible (Folder)
Product colour
Black
Product type
Chromebook
Graphics
On-board graphics adapter model
PowerVR GX6250
Discrete graphics adapter model
PowerVR GX6250
On-board graphics adapter
Discrete graphics adapter
EAN
0193268621145
Warranty
1 year
11.6" 300e Chromebook -kannettavassa (2. sukupolvi) on monipuolinen 360 asteen sarana ja 10 pisteen monikosketustuki. Laitteen voi asettaa neljään eri käyttötilaan - kannettava, tabletti, teltta tai teline - monipuolista suunnittelua, opettamista, opiskelua ja työskentelyä varten. Oppilaat voivat käyttää laitetta kaikille tutulla tavalla - koskettamalla näyttöä.

Valmis kaikkiin elämän haasteisiin
Jos luokkahuone tuntuu joskus leikkikentältä, ei syytä huoleen - tämä laite on suunniteltu kestämään. Kovatekoisessa 300e Chromebookissa (2. sukupolvi) on kumiset suojukset, vahvistetut liitännät ja saranat sekä mekaanisesti kiinnitetyt näppäimet, joten se selviää rajummistakin kolhuista. Se kestää jopa pudotuksen 75 cm: n korkeudelta - eli suunnilleen pulpetilta tai työpöydältä.
Sisäänrakennettua monipuolisuutta
Etupuolen 720p HD -kamera sopii hyvin videoneuvotteluihin. Näppäimistöpaneelin kameran ainutlaatuisen sijainnin ansiosta 300e Chromebookia (2. sukupolvi) voi käyttää kuvien ottamiseen kuin tablettia. Laite myös kääntyy kaikkiin neljään käyttötilaan - kannettava, tabletti, teltta tai teline - ja tekee yhteistyöstä todella helppoa.
Kevennä kuormaa
Jopa 10 tunnin akun keston ansiosta 300e Chromebook (2. sukupolvi) toimii koko koulupäivän vain yhdellä latauksella - ja pidempäänkin. Verkkojohtoja ja -laitteita ei siis tarvitse kanniskella mukana. Oppilaat voivat työskennellä koko päivän ja ladata laitteen yöllä seuraavaa koulupäivää varten.
Multitronic | JNT Vaasa

Hovioikeudenpuistikko 18, 65100, Vaasa
Opening hours
Today: 11:00 - 15:00
Estimated delivery
Not confirmed
Multitronic | JNT Pietarsaari

Alholminkatu 3, 68600, Pietarsaari
Opening hours
Today: 10:00 - 14:00
Estimated delivery
Not confirmed
Multitronic Seinäjoki

Suupohjantie 57, 60320, Seinäjoki
Opening hours
Today: 10:00 - 15:00
Estimated delivery
Not confirmed
Multitronic | iTronic Jyväskylä

Gummeruksenkatu 6, 40100, Jyväskylä
Opening hours
Today: Closed
Estimated delivery
Not confirmed
Multitronic | iTronic Lappeenranta

Valtakatu 41, 53100, Lappeenranta
Opening hours
Today: 11:00 - 15:00
Estimated delivery
Not confirmed
Multitronic Mariehamn

Torggatan 12, 22100, Mariehamn
Opening hours
Today: 11:00 - 15:00
Estimated delivery
Not confirmed
iTronic Vaasa

Hovioikeudenpuistikko 19, 65100, Vaasa
Opening hours
Today: 11:00 - 15:00
Estimated delivery
Not confirmed