Kingston 32 GB (2 x 16 GB) HyperX Fury, DDR4 3200 MHz - memory, black
Kingston 32 GB (2 x 16 GB) HyperX Fury, DDR4 3200 MHz - memory, black
ID: HX432C16FB4K2/32
Gaming SALE
Express delivery
159

,90 €
128

,95 €
Show VAT 0%
Show VAT 24%
Save 9,10 €
norm. 169,00 €
Online store:

40+ pcs
Estimated delivery: 16.06 - 18.06
Change store
Buying options
Save when buying an open-box or customer return product.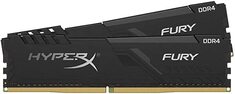 Specifications
Description
Delivery
Price development
Weight & dimensions
Height
34.1 mm
Width
133.3 mm
Depth
7.2 mm
Operational conditions
Storage temperature (T-T)
-55 - 100 °C
Operating temperature (T-T)
0 - 85 °C
Features
Internal memory type
DDR4
ECC
CAS latency
16
Memory clock speed
3200 MHz
Row cycle time
45.75 ns
Row active time
32 ns
Memory voltage
1.2,1.35 V
Cooling type
Passive
SPD profile
Memory form factor
288-pin DIMM
Component for
PC/server
Internal memory
32 GB
Memory layout (modules x size)
2 x 16 GB
Intel Extreme Memory Profile (XMP)
Intel Extreme Memory Profile (XMP) version
2.0
JEDEC standard
Programming power voltage (VPP)
2.5 V
EAN
0740617308457
Warranty
5 years
HyperX HX432C16FB4K2/32 is a kit of two 2G x 64-bit (16GB) DDR4-3200 CL16 SDRAM (Synchronous DRAM) 1Rx8, memory module, based on eight 2G x 8-bit FBGA components per module. Each module kit supports Intel® Extreme Memory Profiles (Intel® XMP) 2.0. Total kit capacity is 32GB. Each module has been tested to run at DDR4-3200 at a low latency timing of 16-20-20 at 1.35V. The SPDs are programmed to JEDEC standard latency DDR4-2400 timing of 17-17-17 at 1.2V. Each 288-pin DIMM uses gold contact fingers.
Fetch from the shop
Estimated delivery time: Today
Posti Parcel Point
Estimated delivery time: 15.06 - 17.06
Postal Parcel
Estimated delivery time: 16.06 - 18.06
Matkahuolto Near Parcel
Estimated delivery time: 16.06 - 18.06
Matkahuolto Bus Parcel
Estimated delivery time: 16.06 - 18.06
Parcel to the Doorstep
Estimated delivery time: 16.06 - 17.06
Home Delivered Parcel
Estimated delivery time: 16.06 - 17.06