QNAP QSW-M1208-8C Switch 500MB 4 port 10GbE SFP+ 8 port 10GbE SFP+/ NBASE-T
QNAP QSW-M1208-8C Switch 500MB 4 port 10GbE SFP+ 8 port 10GbE SFP+/ NBASE-T
ID: QSW-M1208-8C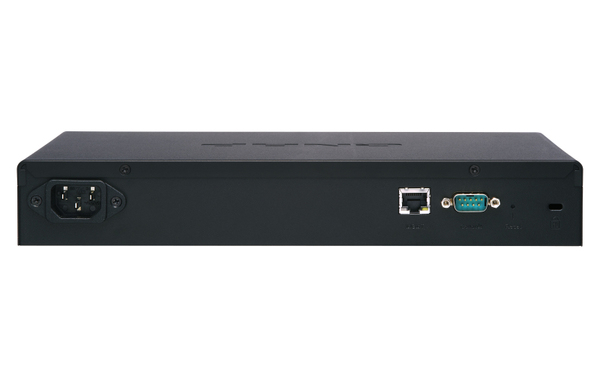 923

,90 €
745

,08 €
Show VAT 0%
Show VAT 24%
Online store:
Estimated delivery: 14.07 - 16.07
Change store
Specifications
Description
Store availability
Delivery
Price development
Ports & interfaces
Gigabit Ethernet (copper) ports quantity
1
Console port
RS-232
Combo SFP ports quantity
8
Basic switching RJ-45 Ethernet ports type
10G Ethernet (100/1000/10000)
SFP+ module slots quantity
4
Weight & dimensions
Weight
2.2 kg
Height
46.6 mm
Width
285 mm
Depth
236.6 mm
Energy management
Power source
AC
AC input frequency
50/60 Hz
AC input voltage
100 - 240 V
Power consumption (max)
70 W
Power supply included
Operational conditions
Operating relative humidity (H-H)
5 - 95%
Operating temperature (T-T)
0 - 40 °C
Networking
Full duplex
Networking standards
IEEE 802.1Q, IEEE 802.1ab, IEEE 802.1p, IEEE 802.1w, IEEE 802.3,IEEE 802.3ab, IEEE 802.3ad, IEEE 802.3ae, IEEE 802.3an, IEEE 802.3az, IEEE 802.3bz, IEEE 802.3u, IEEE 802.3x, IEEE 802.3z
Flow control support
Spanning tree protocol
VLAN support
10G support
Auto-negotiation
Data transmission
MAC address table
32000 entries
Switching capacity
240 Gbit/s
Jumbo frames support
Jumbo frames
9000
Packaging data
Cables included
AC
User guide
Security
Access Control List (ACL)
IGMP snooping
Management features
Switch layer
L2
Quality of Service (QoS) support
Web-based management
Switch type
Managed
Design
Certification
FCC, CE, VCCI, BSMI, RCM, WEEE
Rack mounting
Electromagnetic compatibility
CLASS A
LED indicators
Activity, Link, Power, Speed, Status
Product colour
Black
Reset button
Number of fans
4 fan(s)
Power over Ethernet (PoE)
Power over Ethernet (PoE)
Performance
Firmware upgradeable
EAN
4713213517833
Warranty
2 years
Source: Icecat.biz
The QSW-M1208-8C is a Layer 2 Web Managed Switch with four 10GbE SFP+ ports and eight 10GbE SFP+/RJ45 combo ports that enables blazing-fast transfer speeds, simultaneous multi-workstation access to large files (ideal for video editing and multimedia), and empowers bandwidth-demanding tasks like virtualization. Supporting Layer 2 switching and providing a user-friendly entry-level network management solution, the QSW-M1208-8C is an affordable way for businesses and organizations to fully embrace 10GbE connectivity.

Flexible deployment combo ports and 10GbE / NBASE-T
The 12-port QSW-M1208-8C switch includes four SFP+ (fiber) ports, and eight SFP+/RJ45 (copper) combo ports for connecting different interfaces. With RJ45 interfaces, 10GbE is supported using Cat 6a (or above) cables. Direct Attach Copper (DAC) cables can be used with SFP+ ports for connecting to servers inside a rack. The switching capacity of the QSW-M1208-8C is 240 Gbps, guaranteeing the full potential of each port. The QSW-M1208-8C is also compatible with 10GbE and NBASE-T technologies to support up to five speeds (10G / 5G / 2.5G / 1G / 100M). The SFP+/RJ45 (copper) combo ports provide higher transmission speeds with existing cables. Depending on cable types and their lengths, different speeds can be achieved for faster, more efficient data transfer.

Fully embrace High-Speed Networking with QNAP!
From NAS with built-in 10GbE SFP+ and 10GBASE-T ports, or NAS with PCIe slots that support 10GbE network adapters, QNAP has led the industry in 10GbE adoption. Other high-speed network solutions from QNAP include Thunderbolt 3 to 10GbE Network Adapters and USB 3.2 Gen 1 to 5GbE Network Adapters. These can all be used with the QSW-M1208-8C to create a comprehensive high-speed network environment for boosting the performance of photo/video editing, virtualization, large-file data transfers, and other bandwidth-demanding tasks.

QSS: Intuitive Network Management Software
The QNAP Switch System (QSS) features an easy-to-use Web GUI with value-added functions to simplify network set up and management.

Sleek Design
Use the at-a-glance major functions, flat control layers and one-click login to simplify set up and management.

GUI
The visual illustration matches physical ports for greater usability.

Value-added
With the settings guide, status chart reference, online firmware update, learning and management costs are greatly reduced.

Optimize Network Performance with bandwidth and packet control
The QSW-M1208-8C provides bandwidth and packet control functions (such as LACP, VLAN, QoS, and IGMP Snooping) to boost network performance through IP grouping and bandwidth management.

Powerful security and system functions
The QSW-M1208-8C has powerful security and system functions (including ACL, LLDP, RSTP and Flow Control) to help administrators enhance network reliability using access controls, troubleshooting, loop prevention and avoiding packet loss.

Near-silent and energy saving
With its smart cooling system, the QSW-M1208-8C ensures high-speed network performance without distracting background noise. IEEE 802.3az (EEE) support also reduces power consumption without sacrificing performance or functionality. By dynamically detecting link speeds and activities and adjusting accordingly, the QSW-M1208-8C provides energy savings of up to 50% to minimize operational costs.

Versatile installation and sleek appearance
The QSW-M1208-8C features a sleek modern design that blends in with modern digital homes and offices. A Rackmount Kit is included to provide extra installation options.
Fetch from the shop
Estimated delivery time: 13.07 - 16.07
Posti Parcel Point
Estimated delivery time: 13.07 - 15.07
Postal Parcel
Estimated delivery time: 14.07 - 16.07
MH Locker and Near Parcel
Estimated delivery time: 14.07 - 16.07
Matkahuolto Bus Parcel
Estimated delivery time: 14.07 - 16.07
Parcel to the Doorstep
Estimated delivery time: 14.07 - 15.07
Home Delivered Parcel
Estimated delivery time: 14.07 - 15.07