EVGA SuperNova G6 750W - Power supply, 80 Plus Gold
EVGA SuperNova G6 750W - Power supply, 80 Plus Gold
ID: 220-G6-0750-X2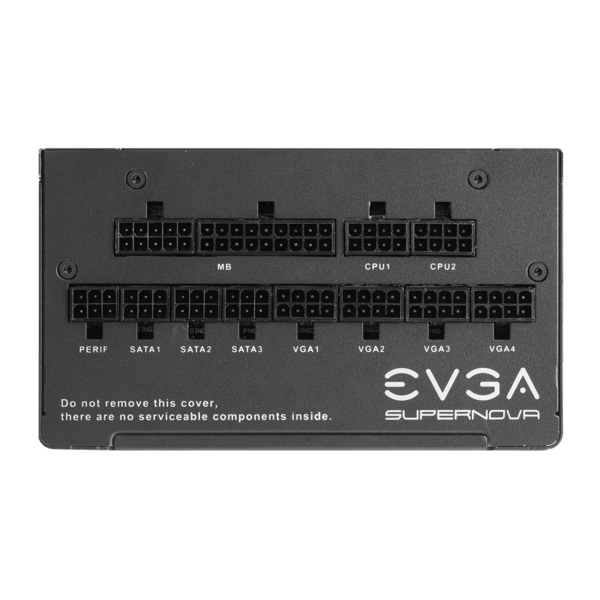 150

,90 €
121

,69 €
Show VAT 0%
Show VAT 24%
Online store:

40+ pcs
Estimated delivery: 05.07
Change store
Key Specifications
Choose one or multiple features to search for items that have the same specifications.
Specifications
Description
Store availability
Delivery
Price development
Ports & interfaces
ATX Power connector (24-pin)
Floppy disk drive connector
PCI Express connector
Motherboard power connector
24-pin ATX
Floppy drive power connector
1
Number of SATA power connectors
9
Peripheral (Molex) power connectors (4-pin)
4
PCI Express power connectors (6+2 pin)
6
Cabling type
Modular
Motherboard power cable length
60 cm
SATA power cable length
550,650,750 mm
Peripheral (Molex) power cable length
550,650,750,850 mm
PCI Express power cable length
70 cm
Floppy disk drive cable length
10 cm
Weight & dimensions
Weight
3.17 kg
Height
86 mm
Width
150 mm
Depth
140 mm
Energy management
Input current
10 - 5 A
Nominal power
750 W
Efficiency
91%
Power protection features
Over current, Over voltage, Overheating, Overload, Short circuit, Under voltage
Combined power (+3.3V)
120 W
Combined power (+12V)
750 W
Combined power (+5V)
120 W
Combined power (-12V)
6 W
Combined power (+5Vsb)
15 W
Max output current (+3.3V)
24 A
Max output current (+12V)
62.5 A
Max output current (+5V)
24 A
Max output current (-12V)
0.5 A
Max output current (+5Vsb)
3 A
AC input frequency
50/60 Hz
AC input voltage
100 - 240 V
Total power
750 W
Operational conditions
Operating temperature (T-T)
0 - 50 °C
Packaging data
Cables included
CPU, PCIe, Peripheral (Molex), SATA
Design
Product colour
Black
Number of fans
1 fan(s)
On/off switch
Cooling type
Active
Fan diameter
13.5 cm
Fan location
Top
Performance
Mean time between failures (MTBF)
100000 h
Purpose
PC
Bearing technology
FDB
80 PLUS certification
80 PLUS Gold
Silent mode
EAN
4250812439321
The EVGA SuperNOVA G6 power supplies feature a new platform design, using new materials and better layout placement to achieve greater performance with extremely low ripple and noise in an even smaller chassis.

Next Gen Platform
With a full-bridge, LLC Resonant Rectification, and DC-DC design, the SuperNOVA G6 provides rock-solid stability, relentless efficiency, and extremely tight voltage regulation.

Hardware + Firmware OPP
Hardware OPP is designed to trip at 135% max wattage as a last resort to protect the system, but the SuperNOVA G6 also features firmware OPP to anticipate harmful load behavior 5-10% sooner by shutting off the power supply when over-power conditions persist longer than 1ms while avoiding an instantaneous overload trigger protection malfunction during momentary peak wattage.

Smaller Size, Bigger Performance
The improved efficiency and voltage regulation minimizes heat, allowing the SuperNOVA G6 to be EVGA's shortest ATX Gold-certified power supply.

ULTRA-QUIET 135MM FDB FAN WITH EVGA ECO MODE
To reduce noise, the SuperNOVA G6 maximizes the time the power supply stays silent or quiet at low to medium loads when ECO Mode is enabled.
Fetch from the shop
Estimated delivery time: 04.07
Posti Parcel Point
Estimated delivery time: 04.07
Postal Parcel
Estimated delivery time: 05.07
MH Locker and Near Parcel
Estimated delivery time: 05.07
Matkahuolto Bus Parcel
Estimated delivery time: 05.07
Parcel to the Doorstep
Estimated delivery time: 05.07
Home Delivered Parcel
Estimated delivery time: 05.07