X-GAMER X-Tubz Dark Rush
X-GAMER X-Tubz Dark Rush
ID: XG-XTU-4.0-DRKR-1-A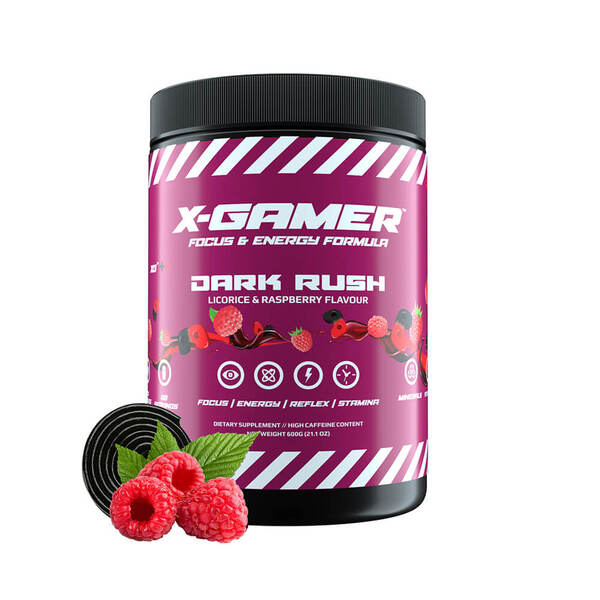 43

,90 €
38

,51 €
Show VAT 0%
Show VAT 14%
Specifications
Description
Store availability
Delivery
Price development
X-Gamer Dark Rush Energy Drink for E-sports - Raspberry & Licorice Taste - Sharpen the Mind & Boost the Energy - Sugar-free, Only 31 kcal per 500ml

Energy drink for E-sports
Sharpen focus
Boosts the energy
Zero added sugar, only 31 kcal per 500ml
Available as 10g one portion, and 600g 60 portion pack
Dark Rush - An energizing explosion of raspberries and licorice flavor.

X-Gamer's new flexible, healthier and hydrating formula provides balanced energy, increased endurance, improved reactions and sharper focus without the dreaded after-crash. Taste the victory with our delicious mix of dynamic and perfect flavors that do not give any bitter aftertaste or strange textures in your mouth. X-Gamer is the only British and European energy drink that is designed and continuously developed uniquely and exclusively for players, and that delivers the highly specific performance requirements.

X-Gamer contains multi-vitamin complexes that help you protect your body. Nootropic Aminos sharpens the mind, and since it contains no added sugar, it contains only 31 calories per 500 ml serving.
Fetch from the shop
Estimated delivery time: 06.02
Posti Parcel Point
Estimated delivery time: 06.02
Matkahuolto Bus Parcel
Estimated delivery time: 07.02
Postal Parcel
Estimated delivery time: 07.02
MH Locker and Near Parcel
Estimated delivery time: 07.02
Parcel to the Doorstep
Estimated delivery time: 07.02
Home Delivered Parcel
Estimated delivery time: 07.02