ADUROSMART Flame E27 2200k, Zigbee.
ADUROSMART Flame E27 2200k, Zigbee.
ID: 15066028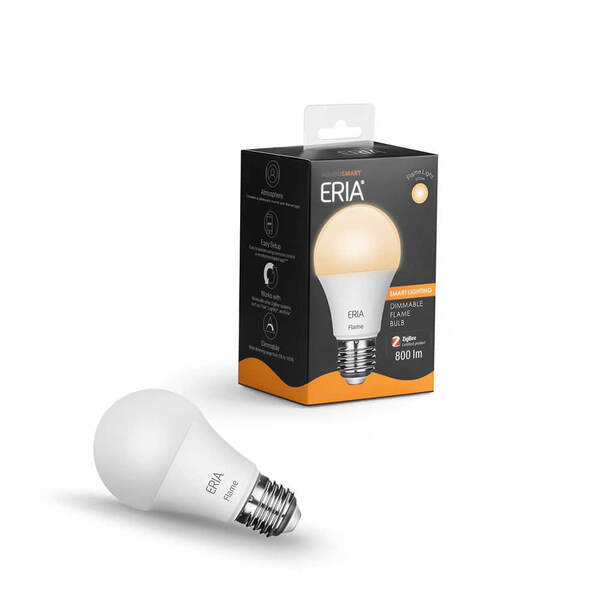 18

,90 €
15

,24 €
Show VAT 0%
Show VAT 24%
Online store:

38 pcs
Estimated delivery: 28.03 - 29.03
Change store
Specifications
Description
Store availability
Delivery
Price development
AduroSmart ERIA E27 Flame Bulb 2200k

Luminous flux of 806 lumens at a power of only 9 watts
Ambient
Replaces traditional 60W bulb
Works with Zigbee technology
With an AduroSmart ERIA, Flame, LED lamp you can adjust the brightness quickly and easily. This creates the desired atmosphere for every occasion. To adjust, use the AduroSmart switch / dimmer and / or bridge. In combination with the bridge, a very wide range of options is created, such as setting timers, scenes and brightness levels. This 230 V lamp, with an E27 lamp base, gives a luminous flux of 806 lumens at a power of only 9 watts! The colour temperature is 2200 Kelvin, also called extra warm white light.
This LED lamp is extremely energy efficient and comes with a 2-year warranty.With an L70 value of 20,000, the lamp also has a long service life. This means that even after 20,000 burning hours, the light output is still at least 70%.The colour recognition index (CRI) is> 80, so you are assured of good colour rendering properties.
Zigbee
Zigbee Alliance is an association of companies such as Philips, Huawei and Adurosmart. Zigbee-compatible products communicate on the 2.4 GHz band, making them compatible between different markets. The Zigbee standard has a higher bandwidth than the Z-wave and thus more data can be sent at the same time.
The technology is extremely low power, and the range is up to 20 meters indoors. Communication is usually done with a controller. The controller builds up scenes, and connects the system to the Internet. Thus, Zigbee devices do not communicate with the Internet themselves. There are also simpler systems that can control eg. lamps with a remote control.
Product Specifications
Article: LED bulb
Biorhythm function: no
Light colour: 2200K - warm flame light
Type: A60
Models: warm flame light, E27
Conv. replacement: 60 W light bulb
Fetch from the shop
Estimated delivery time: 27.03 - 29.03
Posti Parcel Point
Estimated delivery time: 27.03 - 28.03
Postal Parcel
Estimated delivery time: 28.03 - 29.03
MH Locker and Near Parcel
Estimated delivery time: 28.03 - 29.03
Matkahuolto Bus Parcel
Estimated delivery time: 28.03 - 29.03
Parcel to the Doorstep
Estimated delivery time: 28.03
Home Delivered Parcel
Estimated delivery time: 28.03