Components
Hard Disks
WD Red NAS / 2.5" / 1 TB / Cache 16 MB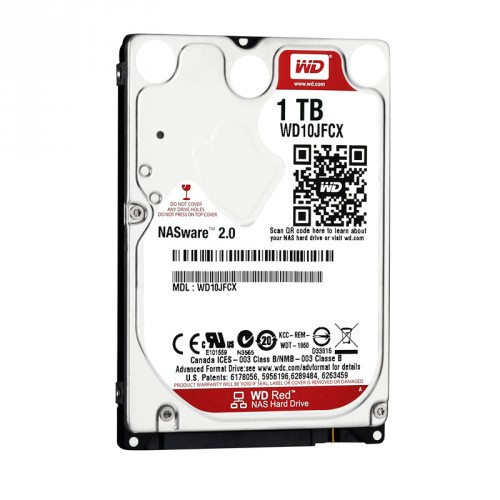 In stock at 2 stores + supplier
Multitronic - JNT Pietarsaari
0
Multitronic / iTronic Lappeenranta
0
Multitronic / iTronic Jyväskylä
2 pcs
Estimated delivery time
1-4 days
Fetch from the shop
0,00 €
Parcel to the Doorstep
12,10 €
Home Delivered Parcel
14,20 €
Matkahuolto Near Parcel
6,20 €
Matkahuolto Bus Parcel
4,10 €
More info about this product
Hard drive
Drive capacity
1000 GB
Drive device, buffer size
16 MB
Hard drive speed
Variable
Mean time between failures (MTBF)
1000000 h
Hard drive interface
SATA
Hard drive size
2.5"
Device type
HDD
IntelliPower
System requirements
Windows operating systems supported
Mac operating systems supported
Weight & dimensions
Weight
115 g
Height
9.5 mm
Width
69.8 mm
Depth
100.2 mm
Energy management
Input voltage
5
Power consumption (standby)
0.2 W
Start-up current
1 A
Power consumption (idle)
0.6 W
Power consumption (read)
1.4 W
Power consumption (write)
1.4 W
Operational conditions
Storage temperature (T-T)
-40 - 70 °C
Operating temperature (T-T)
0 - 70 °C
Operating shock
400 G
Non-operating shock
1000 G
EAN
718037804149
Read more...
Expanded solutions

Our formula of success has led growth of WD Red into higher capacities and expansion into new 2.5-inch solutions. We now offer a broader, more comprehensive portfolio of NAS hard drives for our customers. It is not just about NAS drives, it is REDvolutionary™.

Next generation experience

Every component, line of code, and product decision was built on our passion and determination to deliver the best NAS experience. The next generation of WD Red hard drives delivers on this promise with massive capacity and NASware ™ 2.0, which further improves drive reliability and protects your data in the event of a power loss or disruption.

The right choice

WD Red is designed specifically for home and small office NAS systems and PCs with RAID.

Exclusive NASware 2.0 technology

Our exclusive technology, NASware 2.0, makes WD Red thrive in the emanding small-NAS environment. By adding WD Red to your NAS system, not only is everything more efficient and reliable, you can better protect your data investment.

Experienced in NAS

In all of our cultures around the world, first impressions are what leave a mark. With superior technology that is driven to impress, WD Red is a reflection of the most extensive NAS partner compatibility-testing list that is available on the market.* That means when you buy a NAS enclosure, you can trust that WD Red will be the most compatible drive available. Our pride is in our product and our vision is shared with our customers.

Enhanced reliability

Since your NAS system is always on, a highly reliable drive is essential. With a 35% MTBF improvement over standard drives, the WD Red drive with NASware 2.0 is designed for the 24x7 environment.

NAS compatibility

Advanced firmware technology built into every WD Red drive, NASware 2.0 enables seamless integration, robust data protection and optimal performance for systems operating in NAS and RAID environments.

The secret is the next-generation technology

WD's next generation NASware 2.0 technology improves NAS storage performance by reducing common hard drive concerns in NAS systems including concerns for things like compatibility, integration, upgrade ability, reliability and cost of ownership that are experienced with a hard drive designed for desktop computers.

Energy efficient and money saving

We keep power consumption low which keeps your NAS system happy and your wallet, too.

Lower operating temperatures

Reduce your electricity bill with WD Red drives. Innovative technology reduces power consumption and lowers the operating temperature, resulting in a more reliable and affordable solution for always on NAS environments.

Longer warranty coverage

The WD Red drive is backed by a 3-year limited warranty for greater peace of mind.

Need help? We offer premium support

Every WD Red hard drive comes with our world-class professional support services including a premium dedicated 24/7 support line (available in English, other regional support hours vary).
Read more...